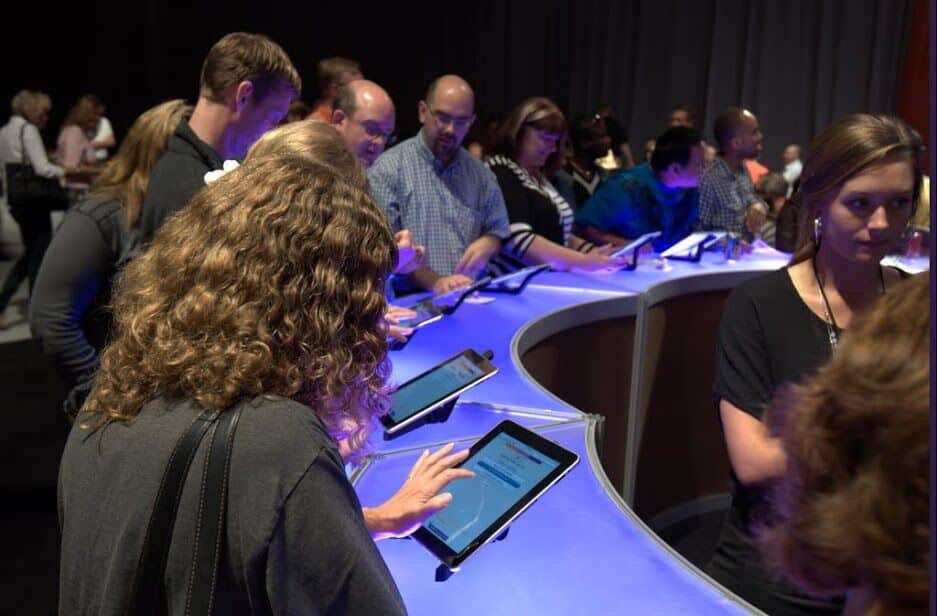 Our SocialPoint® Challenge Bar Trivia platform gives clients several ways to easily collect valuable attendee data and engage their attendees in a fun activity. It works because everyone loves trivia.
Trade show clients are interested in the following:
• Driving higher booth traffic
• Generating more leads
• Capturing marketing follow-ups
• Teaching people about their products and services
• Get people to visit other stations in their booth
Internal meeting clients have different objectives:
• Create a fun team game
• Teach individuals about new products, policies, etc.
• Measure performance against learning objectives
Having said that, here are the five most common uses of our Challenge Bar Trivia Platform:
1. Trade Show Booth Lead Capture
The most common use of our Challenge Bar Trivia is with our "Three Strikes and You're Out" game in a trade show booth. This game is effective because the questions are randomized, so it's a new game each time you play. Which gets people to come back to exhibitors' booths again and again.
2. Team Game Show
Some clients like to use our Trivia Platform to run team games in their events from the stage. From back stage, the production team pushes the questions to the tablets. Teams answer the questions and the scores and correct answers are revealed on the big screen. The crowd goes wild!
3. Activation with a Street Team
Brand Ambassadors and street teams are looking for a quick activation. They want to capture a lead, get some marketing follow-up data and have a 4-8 question game that is only played on an iPad. This generates lots of leads.
4. Multi-Language Game
International clients like to give players an opportunity to choose their language, before playing the game. We allow you to setup the game and questions in English, French, German and Italian. Parlez-vous marketing?
5. Multi-Category Game
Finally, some clients use our multi-category game configuration to allow attendees to choose the kinds of questions that they want to answer. Some answer customer service questions, while others answer engineering questions. This way, you can setup the game to appeal to the strengths of different attendee types. So everyone is more likely to be a happy winner.
Bottom Line
Our Challenge Bar Trivia Platform offers our clients a lot of flexibility, so they can generate more leads, interactivity, and engagement at both trade shows and their internal meetings, with the same technology.
If you'd like to see more about how you can drive more booth traffic with our Challenge Bar Trivia Platform, feel free to contact us with questions or to see a demo of the product.