Where Should You Consider Trivia Games?
Sales Kick-off
Get teams of sales reps to compete against each other by answering questions and helping their team win.
Customer Events
Use interactive trivia games as a complement to presentations to reinforce the key messages of your service.
Sales Training
Create challenges that align with the event theme and all event activities such as social events, content sessions, trade shows, lounges, etc.  
New Employee Orientation
Create challenge-based games where employees earn points for participation over time.
Town Hall Meetings
Using SocialPoint, employees can play trivia, ask questions, and respond to polls. 
Virtual Training
Send your trivia game via email to students.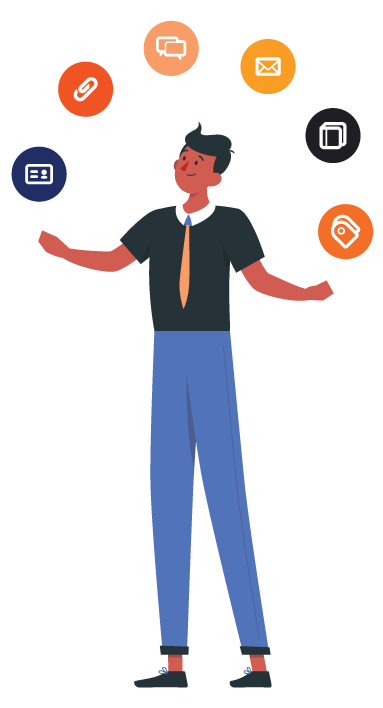 How do SocialPoint Trivia Games Work?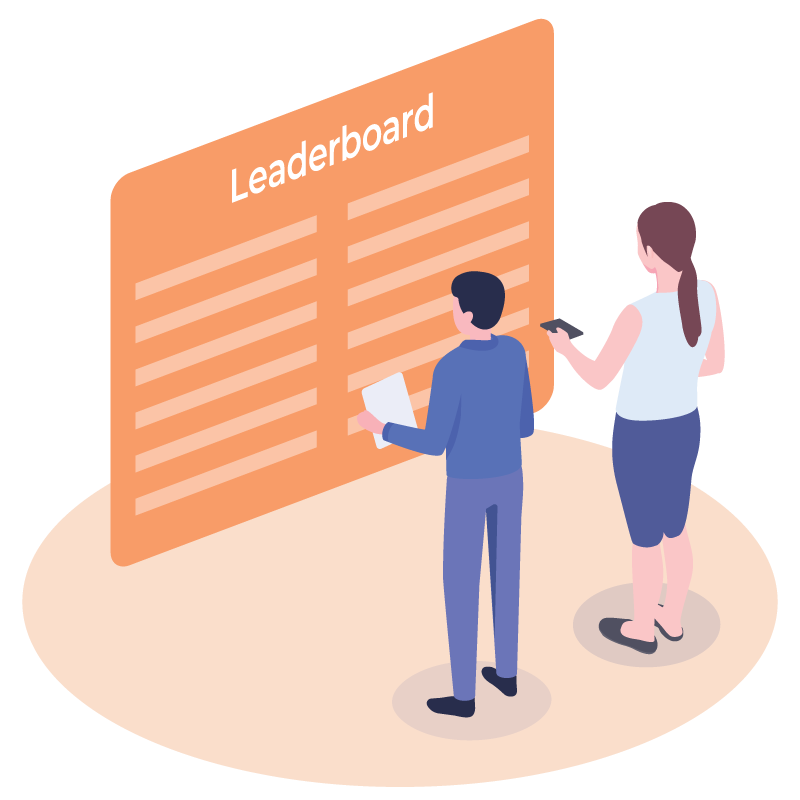 01
Access the game on your phone
Register. Complete an optional survey. Agree to any terms and conditions.
02
Play the game
Players answer trivia questions and play one of six game types, including Elimination, Team Battle and 3-Strikes.
03
See your name in lights
Everyone likes to see their name in lights. Branded leaderboards are used to recognize the top players or teams.
04
Analyze Your Data
Use dashboards and reports to compare events to each other, review player or question performance, and download leads and other data.
How will players access the game?
Event App
Setup game link inside your favorite Event App
Audience Response
Use Inside the SocialPoint Audience Response app to combine with Interactive Q&A and Live Polls
Multiple Quiz Game
Use the SocialPoint attendee participation game app when you have multiple quizzes and need a cumulative leaderboard
iPads at a Trivia Bar
Allow attendees to walk up and play trivia on iPads with Challenge Bar Trivia
Web Link
Show the web link on the screen for attendees to access and play the game
Email Link
Send the game as a web link in email to attendees for virtual training or email marketing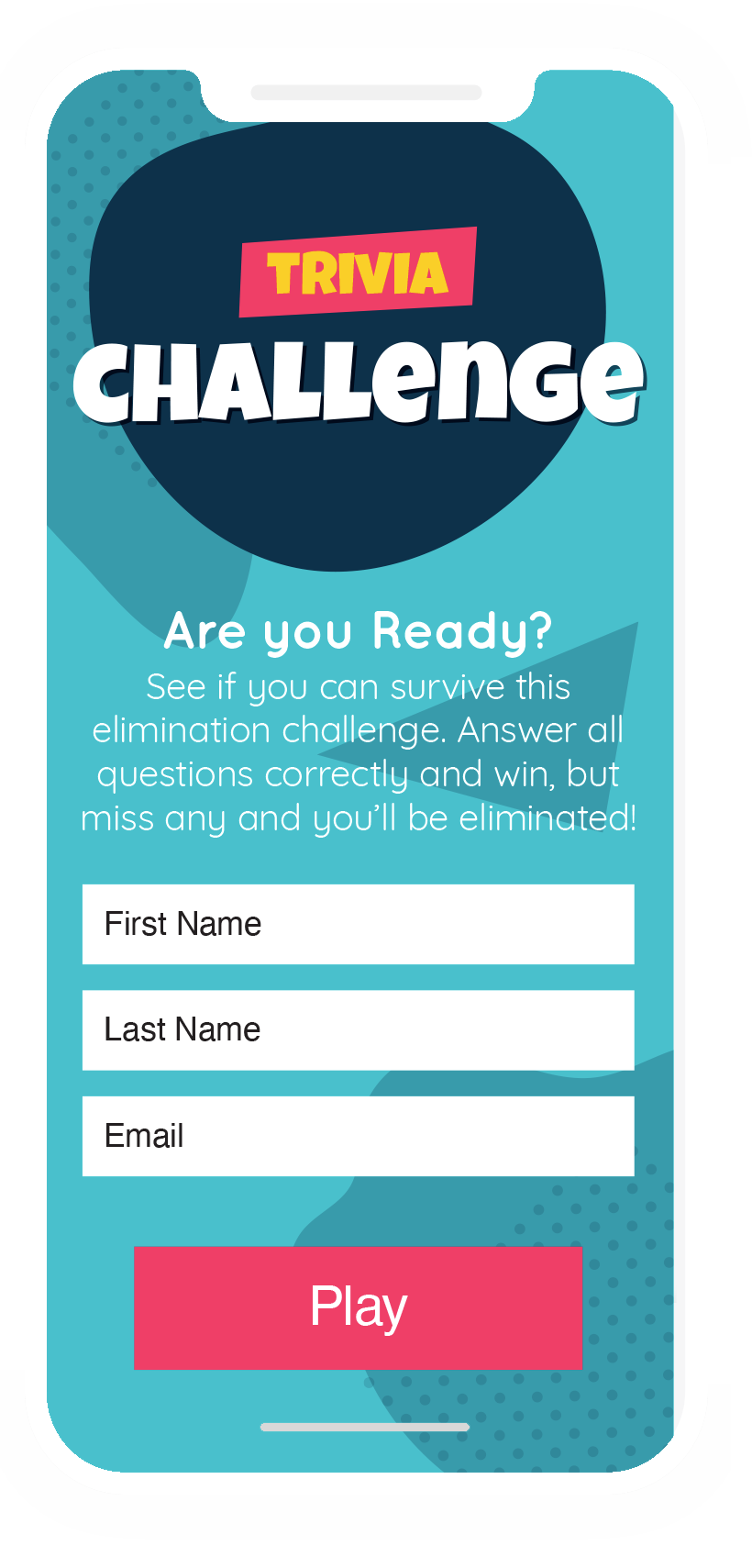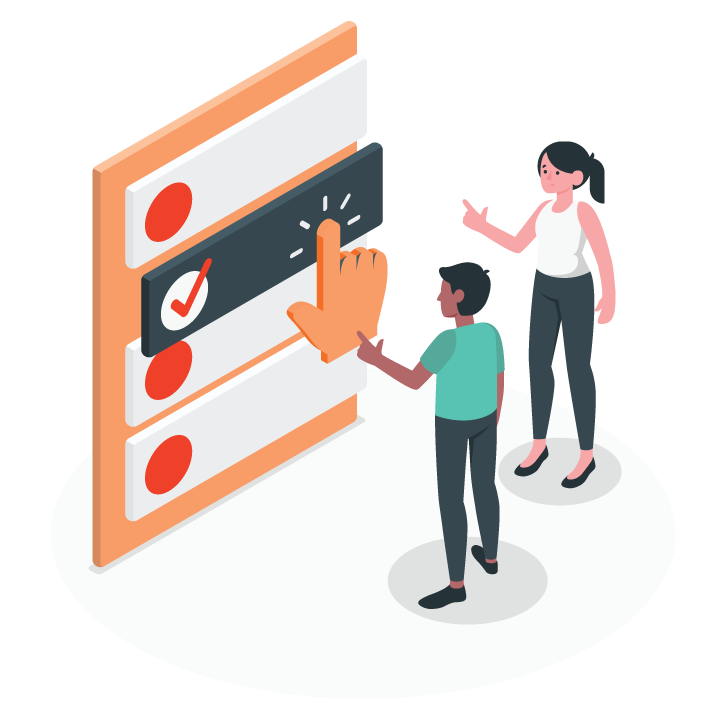 Why SocialPoint Interactive Trivia
Fun upgrade to your audience engagement activities

Need to create challenges that will have a pre-event and post-event element to them

Create learning pedagogy and save the setup to repeat at other courses

Track student performance

Branded Leaderboard

Dedicated customer success manager will help you

Easy to setup and use
Features
Leaderboard
Setup Leaderboards to recognize individual champions or high performing teams
Set Game Plays
Restrict the number of times a player may play a game
Question Randomizer
Randomize the order of questions and they will be used evenly over time 
Photo Questions
Include a photo with your trivia question (optional)
Explanations
Include a description of the correct answer with your trivia question (optional)
Show Correct Answer
Show the player's response and the right answer (optional)
Event App Integration
Setup a web link inside your event app to create a congruent attendee experience
SocialPoint ARS Integration
Build a show flow that includes trivia, live polls and interactive Q&A by combining interactive trivia with our ARS App
Web-Based Access
Distribute your game through a web-based link, so players can access the game easily
Dashboard Reporting
Provide leadership a pretty dashboard report highlighting the most important statistics from your game
Reporting and Data
Track learning objective performance, question performance and player performance with our detailed data and analytics
Use Across Multiple Events
Easily reuse SocialPoint across multiple events and compare the data 
Frequently Asked Questions
What do I get when I purchase Interactive trivia?
SocialPoint is a cloud-based SaaS platform. There are no apps to download in the app store.
When you choose SocialPoint, you get three things:
(1) Each project is assigned a customer success manager who will set up and configure your game(s) for you, help you prepare for your onsite experience, train you on setting up and managing your game onsite. Be a person to Text or email if you have any questions.
(2) If you have a mobile app (stand-alone or embedded into your event app), your link will be available to anyone using the app. Links will be active during the contract term.
(3) You get a User Account and log in to our SocialPoint SaaS software platform. You will be able to deploy your game, monitor results, download data, and make changes to your game.
Does the game require a host (or Emcee)?
The Elimination Game and the Game Show style trivia are managed by a host or an emcee.  These two games work well in a large room or in a trade show space where there will be several rounds of trivia.
In addition, SocialPoint offers several self-paced trivia games that include count down timers, question randomizers, levels and a variety of scoring options. These games allow attendees to play during breaks, in lounges or during downtime at the event.
What type of questions can I create?
With SocialPoint trivia, you can create multiple-choice questions or true-false questions.  Questions can include an image or an explanation
What do I need to provide to SocialPoint to set up the game?
Each project is assigned a customer success manager who will set ,up your game for you and help you plan the experience at your event. You will be responsible for the trivia questions, color theme and leaderboard graphics (if you want them). 
Can I use the trivia game for multiple shows?
Yes, you can use interactive trivia across multiple shows.
Once your game is set up, it's pretty easy for you to use it at multiple shows all year long. You will be able to reset the leaderboard, change questions, and track game performance across events.
Do you provide graphic templates?
We have a few different graphic templates that you can choose to edit and personalize with your logos, colors, and visual background.
The templates are in Adobe Illustrator and are easy for your graphic designers to change and get just right for your project.
Does the game come with a leaderboard?
Yes, the SocialPoint trivia game comes with a leaderboard that you can display on monitors or in the front of your room.
What are the game play options?
There are two primary gameplay options: Self Paced gameplay vs. Host directed trivia. The host directed trivia works well when you want to create a game show type of environment in your general session or trade show booth.   Self-paced games, on the other hand, are most effective when you want attendees to answer questions at their own pace. An example could be – when playing games during breaks.
What do I need to setup SocialPoint onsite?
If you are deploying hosted trivia in a conference room, we recommend that you do the following:
(1) Provide the host with an iPad so he(or she) can start the game and advance the questions.
(2) Connect a source laptop showing the leaderboard (and current question) to your big screen.
(3) Give the players the app link – ahead of time or during the event. 
Pro-tip:  Organize a backup iPad (in case the host loses internet connectivity) while on stage.
Pro-tip:  Set up your source laptops on a different network than the attendees.
How does the pricing work? Is it per event or is there an annual subscription option?
Yes, we charge $4,500 per year for a subscription for our Trivia Module (Includes both Challenge Bar Trivia and Interactive Trivia).
If you are looking for per event prices. We charge $2,000 to setup your first prize wheel and $750 to reuse it at each event.
Once the game is setup, you are welcome to reuse it as many times as you wish. Just tell us if you want to pay per event or go for an annual plan.