20 Ways To Increase Event Attendee Engagement With Event Technology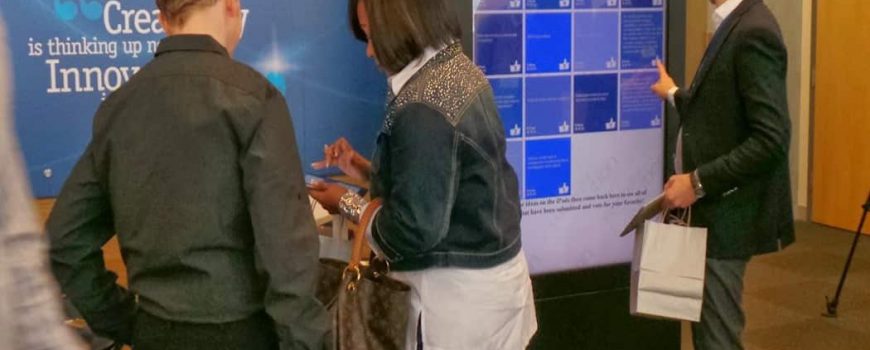 Using event technology to poll attendees is only the beginning of what you can do to create more attendee engagement.
Event technology, event apps and audience response apps offer several new and improved ways to create conversations with your audience.
Here are some of the things you can do: poll, play, create, capture, share, vote, survey, comment and smile. Yes, smile, because you can share photos too.
With all of these capabilities at your disposal, here are 20 ways you can use event technology to create attendee engagement experiences
1. Display and Accelerate Social Conversations
At a large event, you can accelerate the social conversation by putting attendee social media posts on big visual displays. When you showcase social media messages on a big screen, attendees will naturally be more motivated to share more of their own social posts, because they want to see their own message up on the big screen, too!  The more they post, the more brand reach your event. You need big screens to make this happen.
2. Blend Comments from Live & Virtual Attendees
In a hybrid meeting (a face-to-face meeting with an online audience as well) you can integrate the responses from the virtual and the face-to-face attendees into a cohesive experience. You can combine live and virtual attendee comments and poll results so that your speaker who's there on stage can weave all that together, and better engage both audiences in real time.
3. Blend Social Messages with Brand Messages
In a lounge – turn social media into décor to tell your event's social media story. In a social media lounge you can let attendees visualize social conversations alongside your brand conversations.  And frame up both the social and brand messages in a beautiful environment so your event is elevated and your brand is too.
4. Capture Shareable Attendee Moments
At your experiential event – capture customer experiences for attendees to share with friends.  This is like the photos snapped of roller coaster riders – they are too engaged with a special activity to take a picture. So, help them out, take the pictures, capture the moment, and then make it easy for them to share those fun pictures, with their comments (and your event name) on social media.
5. Create a Private Social Media Hub to Receive & Rank Ideas via Touchscreen
At your sales conference – create a "private" social media hub to share ideas and content among employees.  This is especially useful for highly regulated industries such as healthcare and finance.  You can have employees share their ideas via messages that look like social media messages, but are kept private to your event.  Other attendees can view them on big touch screens and vote on ideas they like best.
6. Select Employees for Questions with Virtual Prize Wheel
At an all-employee meeting – use a virtual prize wheel to get attendees to "Come on down" to the front of the room to answer questions.  Instead of putting prizes on the wheel, you put employee names.  It creates some drama and fun, and they get excited when their name pops up.
7. Welcome Attendees with Social Content on Massive Video Wall
At a big conference or convention, use a massive video wall to welcome attendees. It's important to them.  We have lots of events where attendees take selfies or have a friend take a picture of them on the social media wall.  They say, "I want a picture of me that I can tweet of me on the social wall!" Your attendees like to be seen as special and you're satisfying that need.
8. Turn Event Social Media Posts into a Contest with Leaderboards
Social media leaderboards are another powerful way to drive greater social engagement during your event.  You can rank people based on who has the most posts or shared photos or retweets or several other metrics.  Make your attendees a winner and they will love that and you get your event content spreading further.
9. Digital Document Delivery at Company Expo
In a company expo – encourage exhibitors to share digital documents, rather than paper brochures.  This will save you money on printing costs and supporting your CSR initiatives. Those digital documents won't end up in the hotel room trash cans, either.
10. Promote Messages to Customers with Digital Games
In a customer event – reinforce key messages by connecting attendees to content through games.  One client asked attendees to play a trivia game about industry trends during an opening reception.  They discovered the attendees only knew about the old, fading trends, not the new transformative trends.  So the vice president referred to that contradiction in their general session. They learned from the audience and created a massive conversation.
11. Energize Sessions & Create a Conversation
Caffeinate your audience by adding polling, interactive Q&A and online discussion to your conference session. You'll get much better questions when your speaker can choose from a list no one sees, instead of having to take the first person who puts up their hand.
12. Evaluate Pitches
Let audience members evaluate back-to-pack pitches and proposals from colleagues from their mobile device in real time. You get the wisdom of the crowd on your most valuable presentations.
13. Put Panelists in the Hot Seat
Turn up the heat on panelists by getting them to address more questions from the audience. You can answer 10X questions via text than by passing the microphone around.
14. Scale Up Brainstorming
It's easy to generate ideas and pick the best option with 10 people. Using SocialPoint, you can do it with hundreds of people. Capture ideas, evaluate them and pick a set of options to evaluate after your workshop.
15. Collaborate in Groups
Break large problems into smaller problems and let small groups tackle them and share their feedback. You will get more specific ideas and be able to easily download and share them. So you get more value for your meetings.
16. Simple, Fun Ice Breakers
Let your attendees write silly captions on photos that can be moderated and shown on the big screen. It's a fun way to get people to relax and on the same page.
7. Live Word Clouds
Everyone loves word clouds. Let attendees submit key words that can appear on a word cloud…live and in real time. OR, give attendees a set of 30 – 50 words and let them vote for 2-3 favorites. Then turn those results into a world cloud. Attendees will instantly see what issues are most important, what advantages matter most — whatever you ask them to share about.
18. Collage of Us
Let your attendees take selfies and share those photos on a photo wall. You can moderate the content for appropriateness. Helps build team spirit and honors your attendees.
19. Team Trivia
Create team based trivia game that allows your audience to work together to answer questions. You get attendees to learn your content.  Often our clients call attention to the trivia game during breaks by putting the leaderboard up on the big screen.
20. Pick A Winner
Put your attendees' names on a virtual prize wheel then spin to see who won the prize. We can setup the prize wheel so a person can only win one time.
Increasing audience engagement at your events is achievable, especially when you combine great ideas with proven event technology. I hope you put one of these 20 ideas to good use at your next event!
If you'd like to see how you can create more engaging and interactive content using the wide variety of choices within our SocialPoint Audience Engagement System, feel free to contact us with questions or to discuss your event with one of SocialPoint's Digital Strategists. We'll help you generate greater attendee engagement at your events.