How to Use Games and Gamification to Achieve Your Sales Kickoff Objectives
As a Sales or Marketing leader, you know that sales kickoff meetings (SKOs) present a unique opportunity to set goals, teach the team critical new skills, and build camaraderie. 
Gamifying your Sales Kickoff meeting creates a fun opportunity to engage your attendees around your event content and change behavior. 
The friendly competition will help your easily distracted reps focus. Individual and team leaderboards will provide them with recognition and bragging rights.
Drawings and instant rewards will help those in the middle of the pack stay engaged. 
How do you use games and gamification to achieve your SKO objectives? 
Let's dive into how gamification will transform your next sales kickoff into an unforgettable event.
Gamification boosts your sales team's engagement and retention
So, how do we keep their attention? Consider role-playing games as your sales kickoff meeting defibrillator. They will breathe life back into the room.
Games help increase retention, provide a fun and interactive break from lectures and presentations, transition smoothly from one session to the next, and make learning easier.
Not only that, but you'll also be doing your attendees a favor. The National Institutes of Health (NIH) promotes fun and games as essential tools for a happy and healthy adulthood. Besides being good for your health, here's how gamification can positively impact your business:
Increase engagement

and motivation of the sales team. 

Reinforce critical messages

from the meeting interactively. 

Foster collaboration, communication, and knowledge sharing

among the sales team members. 

Promote healthy competition

between teams and individuals. Competition helps drive higher performance and reach targets faster and more efficiently. 

Recognize individual achievements

through rewards such as badges or points system for completing tasks or reaching milestones during the kickoff meeting session games/activities. 

Generate interest

in new products, services, and offers. You can create challenges around them during game activities at the kickoff.

Provide instant feedback

on performance to increase learning retention throughout the event. 

Quickly identify high performers

to reward with additional incentives during or after the SKO.

Establish trust within teams

that encourage cross-team collaborations post-kickoff meetings.

Rejuvenate the sales team's motivation levels

post-meeting to achieve targets set during the kickoff.
Hands-on learning has roots in the earliest teaching methods. And it's one of the best ways to remember and apply information. Blending these techniques into your SKO will pump energy back into the room and inspire salespeople to hit the ground running.
Experiential learning is an effective method of sales training 
Experiential learning combines traditional classroom-style instruction with hands-on activities. These activities let your salespeople practice what they learned in real-world scenarios.
According to Gabe Zichermann, author of Gamification by Design, gamification increases employee skill retention by approximately 40%. It works so well in sales training because using games for learning gives participants a more immediate and meaningful understanding of new products and services. All while practicing their sales techniques in realistic situations with colleagues.
Experiential learning increases knowledge retention and motivation and improves job satisfaction and productivity. The trial-and-error nature of experiential learning gives participants a safe place to fail. Then they can learn from their mistakes — leaving them better trained for success.
The collaboration time creates an engaging experience that helps sales teams hit goals faster with greater confidence.
Top Types of Experiential Learning Games
To gamify experiential learning, consider peppering real-life challenges with fun elements. Here are five examples of experiential learning games and when to use them:
1. Role-Playing Games
These allow teams to practice sales pitches and strategies in a safe environment.
2. Scenario-Based Challenges
These can simulate the team's customer situations in the upcoming quarter or year. 
3. Team-Building Exercises
These bring teams together by encouraging them to practice working together towards common goals. 
4. Negotiation Challenges
These give your sales team a chance to hone their negotiation skills by simulating scenarios where they must think of creative solutions to reach an agreement on pricing, terms, etc. 
5. Quizzes & Trivia Contests
These are fun ways for teams to test their knowledge about the company's products, services, industry trends, and more with friendly competition.
6 steps to designing a game around your SKO Objectives
Think back to childhood (if you ever were one). Did your teachers use Jeopardy-style games to review for tests? Did you play trivia games with friends? How about teamwork games like Pictionary or Charades?
Chances are that you still remember some of those experiences and the knowledge that came with them. When we design games for our SKO, we want to create simple, fun activities in our games that will help our sales reps learn. The games will produce the greatest ROI when challenges and activities are linked to our objectives. Here are some steps to help you get there:
1. Define your sales kickoff objectives
Make sure you document the main goals of your sales kickoff meeting.  Here are 10 possible learning objectives for your SKO meeting: 
Understand the company's current sales goals and strategies

Develop a clear understanding of the company's products and services

Learn how to utilize customer feedback to increase sales opportunities 

Create an effective plan for tracking and managing leads

Practice effective communication techniques for engaging customers 

Identify key areas of improvement in individual performance 

Review best practices for presenting product offerings to potential customers  

Brainstorm creative methods for building relationships with clients 

Identify tips and tricks that can help close more deals faster  

Celebrate successes, recognize achievements, and motivate team members
2. Align gamification activities with your learning objectives
Identify activities that players can complete in your event that reinforce your learning objectives. 
Where can gamification help your sales team learn new skills? 
New sales methodology

New CRM tools and sales processes

New products and services

Sales techniques

Customer profiles

Market Intelligence
Be sure to mix up the types of activities that you want people to complete. With SocialPoint, you can create the following activities:
Check-in at a physical location (visiting a booth, attending a session)

Live Trivia games (where everyone plays together)

Quizzes (that you take on your own time)

Post pictures of photos and teams working together. 

Visit booths in the resource fair or product fair

Earn points for completing role play exercises

Earn points for beating sales quota (announced at the award ceremony)

Respond to poll questions. 

Take a survey.

Participate in a word cloud.

Caption this photo.

Download a document
Click for a list of ideas from other SKOs.
3. Align points and rewards with SKO objectives
Some of you will create a list of 20-40 activities, and others will have 5-10 activities. While there is no magic number of activities – it's important to make sure that you align your points and rewards with your SKO objectives.  
Rank order your SKO priorities, regardless of the number of activities.

Ensure that your points and reward system rewards the higher-value SKO objectives, not those with the most activities. (Commonly, sales leaders need to ensure booth passports have fewer points than other activities, even though there is a lot of activity with a booth passport).
With SocialPoint, it's super easy to align points and rewards. You can assign points to each challenge or activity. Then, you can group activities around a reward to create separate games within your big game. So, you can give people an entry into a drawing for visiting 10 booths, then reward players with an entry into a second drawing (for a larger prize) if they visit 20 booths. At the same time, players will compete for individual and team supremacy on the leaderboard. 
4. Develop the game content
There are three elements of your game content:
Challenges and activities

: Create the content for your game including images, graphics, trivia questions and more. 

Rewards and recognition:

Leaderboards, drawings, instant win prizes, and spin-to-win prize selection. 

Branding and themes.

SocialPoint's platform is entirely customizable to reflect your brand identity, from graphics and brand logos to labels and content personalized to your event. (Or you can use one of SocialPoint's many themes!)
5. Clear communication
Make sure everyone knows what's going on and when. One common mistake is that people launch their game without any instructions or information about the game, its goals (for the player), and the rewards.  
Communication is key to making sure your attendees are engaged and learning. 

Use visual cues, announcements, or dedicated platforms to communicate updates, leaderboards, and achievements.

Make sure that players know how to play and how to win.
6. Evaluate the effectiveness of the games
How did it go? 
Use the SocialPoint dashboard to track the number of players, challenges completed, and rewards earned. The dashboard will break it all down by challenge for you. So, you can see which activities resonated and which fell flat. 

Use the data and reports to measure your impact. Use reporting to measure the impact of each activity and download all of the User Generated Content, such as pictures, poll results, and survey results. Use that content in your post-event followup communication.
5 ideas to keep the audience engaged
Keeping participants engaged and motivated is crucial for a successful SKO. Marketing Promotions Manager of Greystone Communities, Danielle Yarde, said she used this to her advantage by incorporating SocialPoint games at her event. "The challenges allowed us to incentivize content comprehension and strengthen team building." 
Here are five ways SocialPoint can help you engage your sales team:
1. Team-based competitions
Break your sales team into natural work groups. Players will play individually, but their scores will be aggregated into a team score on the leaderboard. This format encourages teammates to support each other and helps them complete challenges, so their team wins. Offer prizes for the team that earns the most points.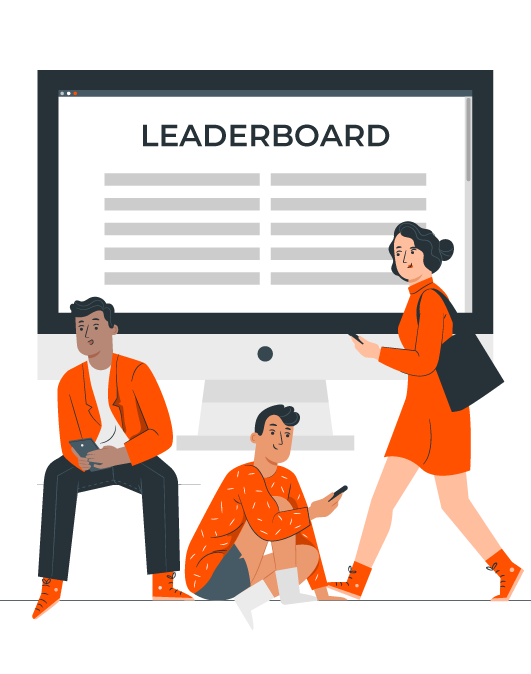 2. Leaderboards
Use SocialPoint's digital leaderboards to track individual and team progress throughout the event. Leaderboards recognize players for doing well and motivate others to work harder to climb to the top. Even if players aren't vying for the top spot, they don't want to lose to Steve!! (everyone has a Steve on the team.)
3. Trivia and Quizzes
Use gamified trivia games and quizzes to reinforce important information shared during presentations. Checking in with attendees keeps them engaged and helps them retain critical information. Also, the points earned for correct answers create differentiation on your leaderboard, reducing the number of ties. With SocialPoint, we can track quiz questions by learning objectives, so you can easily see if people are learning and understanding your main concepts.
4. Experiential Learning Activities
Incorporate interactive sessions into the event — such as live demos or role-playing exercises — that allow attendees to participate and engage with the material hands-on. Take your facilitator's rubric for scoring these activities and translate them into game points. Time and time again, we hear that sales reps are more focused when they earn points for participation in these activities.
5. Visit the Resource and Product Fair
Some of you will set up resource fairs or product fairs for sales reps to go meet the sales operations team, see the products, meet the marketing team, meet the IT team, meet the benefits team, etc. Use SocialPoint to create QR codes for players to check-in or take a quiz after visiting these locations. 
Incorporating challenges, games, and rewards into the event creates a fun and competitive atmosphere that motivates your sales team to learn, collaborate, and succeed. 
5 tips for using games to boost learning and team building
If you want to make your sales kickoff event more engaging, effective, and memorable, consider using gamification. Here are some tips for using gamification at a sales kickoff event:
1. Choose suitable and activities
There are a wealth of game types and activities to choose from. Choose fun and activities relevant to your company's industry and appropriate for your participants' age and experience level.
2. Make sure the games are challenging but not too difficult
You want to challenge participants without causing frustration. Games that are difficult but engaging are sure to leave your attendees happy.
3. Keep the games and activities short and fun
Sweet and quick games are sure to keep attendees' attention. Like a shot of espresso, it quickly packs a punch of energy, keeping everyone alert and energized.
4. Use prizes and rewards to motivate participants
People are more likely to participate in games and activities if prizes or bonuses are involved. Add bragging rights, and it becomes a great day for many on your team.
5. Encourage participants to have fun
Make sure your participants are having fun by encouraging friendly competition and engagement. Interactive leaderboards and the Spin-to-Win prize wheel will add to the excitement. Once the event is over, gather feedback from attendees by sending surveys or polls.
By following these tips, you can use gamification to make your sales kickoff event more engaging and productive.
3 game formats to build teams, skills, and knowledge
Blend different types of game formats into your sales kickoff meeting agenda to match the content's purpose and create a memorable event. Take a look at these exciting game formats and their use cases:
1. Amazing Race
One of the unique features of The Amazing Race is that teams are given clues, then they have to advance to the next location and complete a challenge to get the next clue. If they are the first team to reach the final destination, they win.  
You can build these types of games with SocialPoint. Here's how:
Create a QR Code Scavenger hunt in SocialPoint.

Set up the QR codes so that each clue is revealed after they scan the QR Code. Clues can include videos, links, links to locations in google maps, or simple phrases. 

Once they arrive at the destination, identify the team-building activity (or pit stop) they must complete before scanning the next QR code. For example, post a photo of the team – doing X in front of Y. 

For your final clue, send the team to the location of your party. (Because each Amazing race should end with a party!! )
The great part about an Amazing Race style scavenger hunt game is that you can use it for team building, a Pub and Grub crawl evening event, or an education adventure. 
2. Photo Scavenger Hunt
Photo Scavenger hunts are a lot of fun for everyone. Sometimes people just want a list of activities and like the challenge of figuring out how to complete all of the tasks. Photo Scavenger hunts are well suited to team building because it allows the group to work together to find the objects, setup the shots, and complete the task. 
You can build photo scavenger hunts with SocialPoint. Here's how:
Create a Photo Challenge for each photo task in SocialPoint.

Upload an example picture of the photo that you want players to shot that you want players.

With SocialPoint, you can set up points, rewards, and leaderboards for completing the different photo challenges. 

Players will post photos to complete the challenges to earn points.

The photos will be posted into a branded photo gallery that can be displayed on big screens or online. You can moderate any duplicates or inappropriate photos.

Once they complete the challenge, they can return to your final destination for a party or reception. You can show photo galleries on the big screen, draw prize winners with the drawing wheel and show the leaderboard. 

It all adds up to a great time together.
3. Team Trivia
Team trivia is a classic for a reason, and it can be easily adapted for a sales kickoff event. Here's how to play: 
Divide your organization into teams. 

Each group takes turns answering questions in a variety of categories. 

The group with the most points at the end of the game wins. 
Here are a few tips to have a successful sales kickoff meeting:
Customize questions to reflect your brand and objectives. 

Set challenging yet achievable questions.

Encourage your team to have fun and be competitive.

Remember to give prizes at the end because who doesn't love a prize?

SKO Bonus points: A couple of weeks later, keep the momentum going by sending the payers a copy of the same trivia questions. This way, they can assess how much information may be retained while providing a refresher. It's a fun and interactive way to reinforce their knowledge and keep them engaged in a friendly battle of wits.
Hosting a Team trivia game can boost your sales team's enthusiasm for the upcoming sales year while testing their knowledge of your company and products.
Role-playing and scenario-based activities for sales kickoffs
Role-playing games are the most effective way to simulate real-life sales situations that your sales reps will experience daily. In our experience, when you tie these role-play activities to a game (points, leaderboards, and rewards) your sales team will pay extra attention.  If they are on a team, they will encourage their teammates to also give their best. 
Role-Playing Scenarios
Develop scenarios that mimic real-life situations that your salespeople may encounter daily.

Have teams take on different roles of potential customers and use their pitching skills to close a deal while considering the customer's needs, budget, timeline, etc. 

Ask them to act out these scenarios in pairs or small groups as if they were talking to an actual customer.

Next, debrief to discuss how it went and where to improve.
Mock Sales Pitch
Divide the team into two groups and have each group develop a sales pitch for a fictitious product or service.

Provide the teams with information about the product or service, customer background, and market conditions.

Let each team present its pitch to the rest of the group.

Then, give them feedback on what worked well and what to improve. 
Negotiation Exercise
Create a negotiation situation between two "buyers" (played by your team members).

Give teams an imaginary budget for a B2B sale.

 Next, ask them to negotiate with suppliers within that budget while maximizing value for their company. 

Ask them to get the best deal possible from one another while still maintaining good relationships with each other through effective communication strategies such as compromise and active listening skills. 
Customer Service Simulation
Work together as a team to role-play different customer service scenarios, such as dealing with demanding customers, handling complaints effectively, upselling products or services, etc.

Afterward, discuss any mistakes made during the simulation. Then, everyone will know how to handle similar situations in real life. 
Cross-Team Team Building
Divide teams into smaller groups and have each group plan a creative introduction to the company's B2B product or service to potential customers.

When finished, the groups can present their solutions to the rest of the team. This activity encourages inter-team collaboration and fosters trust among members.
Market Analysis Challenge
Ask teams to analyze the current B2B products or services market trends, competitors' offerings, customer preferences, etc.

Then, have them brainstorm strategies to promote your product or service amidst this competition. 
Pitch Presentation Challenge
Ask teams to create a presentation outlining the benefits of your company's B2B product or service compared with similar offers from competitors.

Afterward, they can present it convincingly enough to win over potential buyers by highlighting its unique features and benefits over other options available in the market.
To incorporate these into your gamification with SocialPoint, your facilitator can translate their scorecard for these activities into points for your game.  Then, you can easily upload the points via spreadsheet into a staff-scored challenge. 
Motivate your salespeople by gamifying your SKO
By incorporating interactive games in your sales kick-off, you can help your team reach new levels of growth and achievement.
One way to be proactive is to ensure your sales kickoff meeting isn't dull. Experiential learning games, trivia, and passport challenges are excellent ways to gamify and motivate your salespeople at sales kickoffs. Not only do they bring teams together, but they also build trust. Games are also fun to help folks practice sales techniques and hone negotiation and customer service skills.
Ready to help your salespeople stay at the top of their game? Learn how SocialPoint can liven up your next sales kickoff.