11 Best Campus Scavenger Hunt Ideas for New Student Orientation
Most new student orientation programs want to help students make a successful academic and social transition to the university community and university life. The best orientation programs help reduce student attrition. Engaged students are retained students.
Many of the programs try to drive students to university buildings, greenspaces, the student union, and other campus highlights. But you can go beyond that.
We've partnered with a number of universities to design more creative campus scavenger hunt for their new student orientation. Here are some of the best ideas:
Get to know the buildings on campus:

Getting people to learn where the buildings are located is campus scavenger hunt 101. So have them visit your Business, Art, Science, Law, Engineering, and Education buildings.

There are a variety of QR code challenges that you can create, such as:
Visiting a popular lecture hall.

Finding a factoid about the alumni whom the building was named after.

Standing near a popular arch on campus.

Answering trivia about the alumni for whom the building is named.

Take a picture with your favorite piece of art.

Take a picture with a student heading to an interview (Business school).
Campus library:

Ask students to visit the library and take a picture in the stacks. Since it's during orientation week, they won't have to be as quiet!

Career center:

Getting a job after graduation is a parent's goal for their son or daughter's college career. Let's make sure they know where the career center is.

Founder statue

: It seems like all campuses have a statue of the founder or another legend on campus. Have the students strike a pose at one of these statues.

Mascot:

Challenge your students to find the school mascot on campus and take a picture. It could be a painting, sticker, or statue. If you're really lucky, it will be a live person in costume!

Legendary campus sites:

Some campuses have legendary sites such as the Block M on the diag at Michigan, Touchdown Jesus at Notre Dame or the Sample Gates at Indiana University. Your campus probably does too! Set a QR code near that famous location that asks students to post a photo of themselves at this site. 

Student union:

Many student unions are full of interesting activities and things. So, you could choose one or two places inside for students to visit to make sure they get to know the building better.

Sports stadium:

Ask students to scan the QR code in front of your sports stadium and take a picture with their new friends. (Stadiums are really big so let them know what entrance has the QR code.)

Get to know the university clubs & groups

: Setup a QR code for each of the campus clubs and university groups. Then have students earn points for visiting the clubs.

University swag

: Everyone needs to know where to buy university swag. You can have players scan a QR code that gives them coupons for sweatshirts, t-shirts, hats, sweat pants, koozies, and other products emblazoned with your university's logo.

Attending orientation courses: Give players points for attending courses on safety, smart spending, alcohol and sexual violence, healthy eating, technology, or getting advice about transitioning to campus life.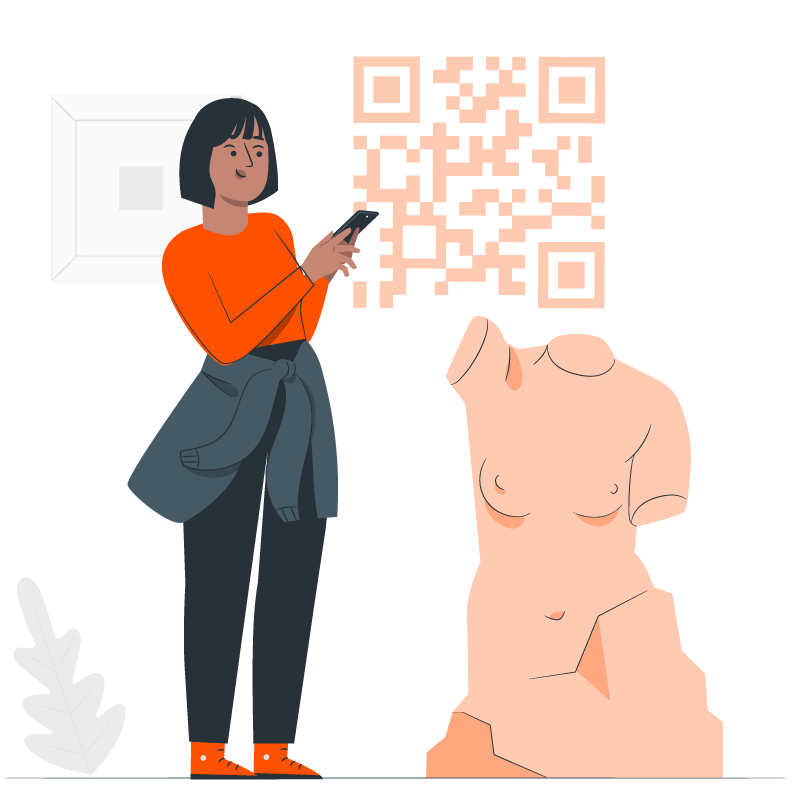 Why should you organize a QR code scavenger hunt instead of using a scavenger hunt app?
Want a smoother experience for you and your new students? Set up your campus scavenger hunt game to use QR codes rather than an app.
The best thing about a QR code scavenger hunt is that players only need to use their phone's camera to play. It's so simple: Scan the code. Complete the challenge. Done.
Because there is no app to download, players more easily participate with just their camera's phone and a web browser.

Players need to visit specific physical locations to scan the QR code. 

Points, Rewards and more can still be delivered through the web browser.
Improve Your New Student Orientation With A Fun Campus Scavenger Hunt
New students are excited and nervous about starting college on your campus. Unfortunately, with a dull new student orientation, they will also be bored. 
By hosting a fun scavenger hunt as part of their new student orientation, you'll make sure they learn useful knowledge and bond better with their fellow students, increasing student retention.  
Learn more about how a SocialPoint scavenger hunt can help your college or university by going here.