20 Reasons Why You Need A Tradeshow Game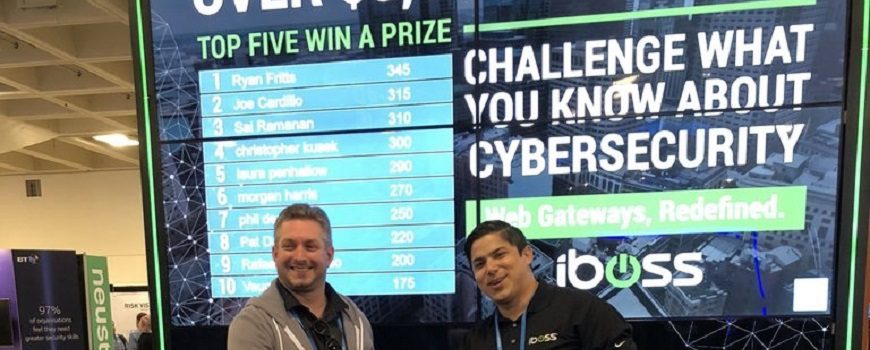 It seems like such a little thing, adding a tradeshow game to your booth.  Just an idea you are considering to make your trade shows a little better.
Yet, adding a tradeshow game to your booth can make a surprisingly huge positive impact to your company's booth traffic, booth staffers' success, company brand image, lead counts, lead data gathered, sales generated, R.O.I. — and much more.
So if you've ever asked yourself, "Why do I need a tradeshow game?", here are 20 reasons a tradeshow game will make your trade show program vastly better:
1. A tradeshow game drives more booth traffic
Driving more booth traffic is the top reason clients tell us they want a tradeshow game. Attendees walking the trade show floor become a little jaded after the third or fourth aisle, and so they gravitate towards a game as a way to win a prize, enjoy themselves, and re-start their bored minds.  Then they will tell their friends to go play your game.  So a game gives you more traffic in your booth.
2. A tradeshow game gets shy people out of the aisle
One way tradeshow games drive more booth traffic is that games pull in shy people that would otherwise pass you by.  A game gives a shy attendee a way to enter your booth without having to engage a booth staffer about product right away.  With our interactive games, the game itself becomes the initial focus of conversation, fanning the flames of an eventual lead.  We call this the digital ice breaker.
3. A tradeshow game helps your booth staffers
News flash: booth staffing is harder than it looks. Many booth staffers lack the will and skill to reach out into the aisle and drag attendee after attendee into your booth.  So they don't, and all those potential leads keep walking down the aisle.  Your average booth staffer gets bored quickly, and disengages from even trying after a while.  But with a tradeshow game bringing in more traffic, your booth staffers don't have to work hard to pull in attendees.  Your staffers will have an easier time building relationships with booth visitors. So your booth staffers will stay engaged all show, and be more willing to staff future shows.
4. A tradeshow game makes your booth fun
Simple as it sounds, a fun booth is a good thing. When your booth is fun, attendees are more likely to walk in, more likely to talk to your staffers, more likely to stay in your booth longer.  Happy visitors are more alert and open to your staffers' dialog. And with all those people having fun in your booth, other attendees will want to join in, because nothing attracts a crowd like a crowd.
5. A tradeshow game enhances your company image
One of the top 3 goals for companies exhibiting at trade shows is to boost or change their company image.  So if you want to change perception of your company from a stuffy, stodgy, fuddy-duddy company to a fun, modern, approchable company, try our digital tradeshow games.  Our games will put cool, beautiful digital content on your iPads and flat screen monitors.  Attendees enjoying themselves playing games are creating positive memories and associating them with your brand, updating their perception with every spin of the wheel or trivia question they answer.
6. A tradeshow game increases attendee engagement
We hear a lot of exhibitors tell us they want to increase engagment with attendees in their booths. Which is one strong reason why our Challenge Bar Trivia game is our most popular: because trivia keeps attendees in the booth longer, and fosters a dialog between the attendee playing and the booth staffer giving them hints and clues. And the most valuable part of that attendee engagment? Educating buyers about your products…
7. A tradeshow game educates buyers about your products and services
All tradeshow games can attract and entertain booth visitors, from mini golf to a pop-a-shot.  But few games do this: Our trivia game educates attendees about your products and services as they play. That's because we customize our game with your own trivia questions. Questions that challenge your booth visitors to guess about the capabilities, strengths, benefits and advantages of your company, your products, and your intangible services that are so hard to promote.  Attendees gladly learn all this to win prizes and high-score bragging rights.
8. A tradeshow game cross-sells to existing clients
Again, this is another strength of our Challenge Bar Trivia game that few other games can offer.  When companies exhibit at a trade show populated by mostly their customers, they want to make them aware of all the other products they sell that their customers could also buy.  However, the exhibiting company's own sales rep may not have educated their existing clients of these other products.  With a well-written set of trivia questions, exhibitors can cleverly cross-sell their broad product offering to their existing clients attending the show. Plus, the game itself encourages visits from clients who would otherwise not visit, because they think they already know everything about you.
9. A tradeshow game keeps attendees in your booth longer
The longer attendees stay in your booth, the stronger you can build a relationship with them.  Attendees stay longer playing trivia because it's fun, they can win prizes, and many want to score higher — so they play repeatedly. When attendees line up for their chance to spin the virtual prize wheel, your staffers can engage the attendees as they wait in line.  The extra time in the booth helps your staffers build deeper relationships, and also keeps attendees from visiting your competitors.
10. A tradeshow game gets more impact from your trade show giveaways
Trade show giveaways are extremely popular, but often their full value is not obtained by exhibitors. Rather than just set them out on the table or shelf, or hide them away from quick hands, exhibitors can integrate their giveaways into a fun, promoted prize wheel game that gives them more drawing power and helps increase lead capture data. Let's talk more about lead data:
11. A tradeshow game gathers more lead data
It may sound surprising to pair up the fun of a tradeshow game with the nerdiness of capturing more lead data, but it's so true.  Tradeshow games (playing for fun, prizes, and bragging rights) provide the incentive for attendees to share their contact data.  Not only that, but they will also answer a few qualifying questions that help you prioritize them for faster lead follow up.  And with our Lead Manager app, you can also get your leads' photo, social media profiles, and company profiles. You can gather leads easily at shows even if the show doesn't offer a badge scanner.
12. A tradeshow game can include analytics to prove your trade show success
Again, this is a surprisingly nerdy advantage from our tradeshow games: analytics.  After each show you get charts and graphs that report how much activity your games had.  These analytics are great for sharing with management to demonstrate success.  And when you use our games show after show, you get great data to compare the traffic, engagement, and leads amongst your entire show scheule.
13. A tradeshow game jumpstarts all phases of your attendees' buying cycles
At the start of this article I wrote how little the idea of a tradeshow game seemed.  Yet here is an extremely important strategic value tradeshow games provide: Many island exhibitors design their exhibit around the entire buying cycle of their booth visitors. Adding a tradeshow game helps bring in more traffic, that can then, after the game, be directed to expand engagement at all phases of their buying cycle.  Here's more about that, with expanatory infographics.
14. A tradeshow game recovers otherwise lost leads from small booths at regional trade shows
Another surprisingly valuable strategic advantage our digital tradeshow games can offer is helping you regain control over your regional trade shows. Often these shows are staffed by field reps who won't send back any leads they gathered, so you can't drive sales, prove the show's value nor judge which regional shows are worth keeping.  With our Digital Fishbowl game, you get those regional show leads immediately, allowing you to follow up on leads, track sales, and intelligently evolve your regional show schedule.
15. A tradeshow game retains otherwise lost leads during busy show times
As exhibitors, we'd all like to magically have the exact number of booth staffers needed to talk to the varying flow of attendees.  The reality is that we bring as many staffers we can afford – which is usually too few during the busiest times of the show. Potential leads can't find an open booth staffer to talk to, and they are too impatient to wait.  You can still retain some of these otherwise lost leads with our Digital Fishbowl game.  Attendees will provide their contact and qualifying data for a chance to win a prize, and you retain leads that would otherwise be lost.
16. A tradeshow game generates more sales leads
It's only natural that as you get more booth traffic, more of that booth traffic turns into leads. (Here's a story of one exhibitor that nearly doubled their lead goal with tradeshow games.) And for many exhibitors, lead generation is the top reason for exhibiting at trade shows. Our clients regularly tell us they boost lead counts from 30% to 100%.  These leads saw a demo of your products and services in your booth, so they are more likely to close than leads from other marketing sources.
17. A tradeshow game improves lead follow up
Unfortunately, after the show, too often your sales people follow up with leads who have a hard time distinguishing from among the many exhibitors they visited. With our trade show games, it's easy to say "Remember playing our trivia game?" or "you spun our virtual prize wheel and won headphones." This makes it easier for your sales people to re-engage with attendees post-show.
18. A tradeshow game can increase your trade show ROI
When you boost lead counts from 30% to 100%, but only increase your overall trade show budget by hundreds or a few thousand dollars (our games cost less with an annual plan), you can significantly boost your tradeshow ROI.  We even hear from clients how they replaced a more expensive, and less effective promotion with our tradeshow games, actually saving money while also boosting results.
19. A tradeshow game quickly creates a proven, customized promotion
When you are tasked with managing many trade shows, plus often many other marketing activities like social media, web site upgrades, lead management, and more, then it becomes problematic to plan and create a new promotion for your important trade shows. Who has the time? Fortunately, our tradeshow games are easily customized in 2 weeks on our configurable interactive game software platform.  You quickly get a proven promotion that delivers results at your shows.
20. A tradeshow game improves your professional reputation
When you have a booth that is fun, full, and busy, your company management will be grateful that you made a huge headache go away.  Your boss, and your boss's boss, will be satisfied their teams aren't standing around doing nothing, but are actively engaging in waves of attendees.  You'll get a reputation as a rainmaker. And your competitors will be jealous of all the attention your booth is getting.
I hope you now realize that when while looking for a fun promo idea for your tradeshows, in considering tradeshow games you have uncovered a gem of an idea that will significantly boost your results in a myriad of ways.