How To Write Effective Qualifying Questions For Your Trade Show App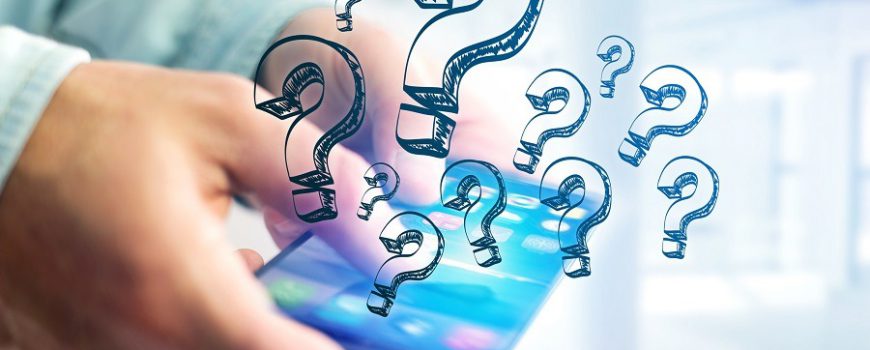 More and more exhibitors are ditching paper and instead of using a trade show app to capture lead data from their in-booth conversations.
Many shows provide a lead retrieval app that allows exhibitors to scan a badge and capture data digitally. Some exhibitors are going a step further and are purchasing lead capture software that they can use across many shows.
There are advantages to using a trade show app to save time entering and exporting data. However, too many exhibitors fail to go one more crucial step and include valuable qualifying questions in their digital lead capture.
That's understandable. It takes time to customize the app with your company's qualifying questions, and there is the suspicion that the booth staffers still won't use them. Getting answers to qualifying questions is so worth the effort!
Here's how to write qualifying questions for your trade show app – questions that will advance your business goals and that your booth staffers will use.
Don't ask many questions. Keep the list short.
Give your booth staffers too many questions and you won't get answers for most of them. Or, you'll get annoyed prospects and more data than you can actually use.
Instead, only ask questions that will help your salespeople prioritize and engage with their leads, and that your marketing team will use to follow up.
What type of questions to include in your trade show app
You want the select few questions that will help you understand each lead's specific needs. Ask your sales management to supply the 3 to 5 questions they would want to ask a prospect to define their needs and to rate how qualified they are.
Chances are, your sales and marketing team will brainstorm a list of 10 or more questions. Once you have that list, be ruthless about eliminating secondary questions. Keep questions that will indeed be used to understand, qualify, and prioritize leads.
Getting BANT answers without asking BANT questions
Perhaps the most popular formula for qualifying leads is called BANT: Budget, Authority, Need, Time.
Budget: Does your lead have the budget set aside to buy your product already?
Authority: Do they have the authority to make the purchase?
Need: Do they have a strong need to buy your solution?
Time: How soon do they plan to make the purchase?
Questions that revolve around getting BANT answers are great to ask – except they can also make your booth visitors recoil. Work with your sales team to write questions that help uncover BANT answers without offending your prospects.
How to format answer choices for your trade show app
When you can, make your qualifying questions multiple choice so that booth staffers can check a box to define the answer. If you are already using those same questions in your CRM, you will get an apples-to-apples comparison to other prospects.
For example, you can rate each lead's quality and simultaneously define follow up activity with one question that asks about which is the most appropriate next step:
Have a Sales Rep contact for a demo or call
Add to the newsletter list
Send product info
Send a whitepaper or e-book
Reevaluate your trade show app questions for every show
Hopefully, you can use the same questions and answers at every show and save yourself time in making changes. However, verify you can use them every time. Your company may have introduced a major new product or be exhibiting at a different vertical market show. For both of these reasons, you would benefit from asking new questions on your trade show app. Fortunately, you won't have to spend as much time as the first time.
Adding useful qualifying questions to your trade show app may seem like a small thing, but it can produce oversize results for the effort. A few quickly answered questions would vastly improve your ability to prioritize and follow up on leads, boosting your results and trade show ROI.