Designing Your Island Trade Show Exhibit To Host All Phases of Your Clients' Buying Cycle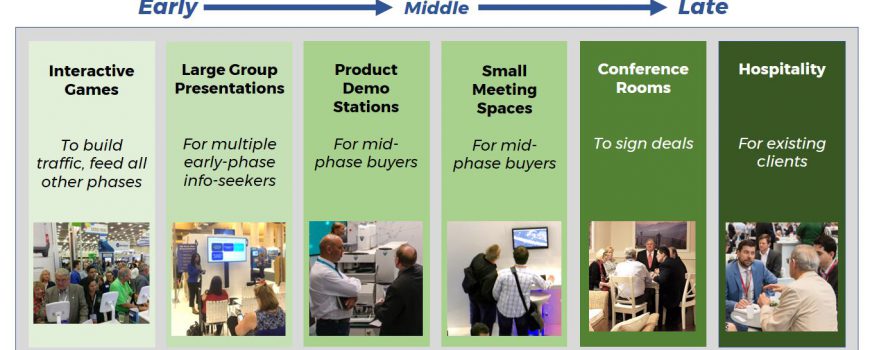 We recognize that our trade show games, while a powerful addition to an exhibit, are by no means meant to take over your entire exhibit – especially with island booths.
What we've heard from our clients is that by adding our games, they get many, many more people into their island trade show exhibit, and which then produces larger visitor counts, all along the buying cycle.
Several of our largest clients have followed this buying-cycle exhibit design strategy, dividing their exhibit into up to 6 different areas:
Spaces and activities for

early

-phase buyers:
Interactive Games: Our clients use our games to attract more booth traffic, and then after a short discussion, escort the game players to the most appropriate place in the booth based on where they are along the buying cycle.
Large Group Presentations: Exhibitors use a theatre-style presentation to groups of 5 or 10 or more attendees at one time.  These are broad overview presentations to help inform early-stage buyers what are the main ways their company solves client problems.
Spaces and activities for

middle

-phase buyers:
Product Demo Stations: Buyers who are past the point of general info want to see that your product can do what you say it can, and so product demo stations are a mainstay in many island trade show booths, especially for manufacturers and tech companies.
Small Meeting Spaces: Attendees who are more interested than those sitting in a theatre get one-and-one time with booth staffers who answer their individual questions and make personal presentations based on specific needs.
Spaces and activities for

late

-phase buyers:
Conference Rooms: Private meeting spaces are reserved for buyers who are ready to sign a deal, deserving the privacy and honor of a quieter, intimate room.  Conference rooms are also used for existing client and partner meetings away from prying eyes.
Hospitality: Existing clients are treated like family, and given special treatment that includes comfortable seating with food and drinks (although in European and Latin American exhibits, more people are likely to get treated this way).
As an example, they may divide up their island exhibit for these 6 areas in this way:
By creating spaces to allow for interactions with your booth visitors who are at the various stages of their buyer's journey, you can be a great host to all attendees, no matter how far along they are towards a purchase.
Even better, by using our games to drive more booth traffic, you get more visitors – at every phase of the buying cycle:
If you'd like to see more about how you can drive more booth traffic and get more qualified leads with our interactive trade show games, feel free to contact us with questions or to discuss your event with one of SocialPoint's Digital Strategists. We'll help you generate excitement, crowds, and leads.