Advice and Advantages for 7 Kinds of Popular Interactive Trade Show Games
There are many kinds of popular interactive games and contests you can do in your trade show booth.  Almost all will create more activity and booth traffic, and help you gather more data about your booth visitors.
Yet, there are differences that are worth considering, so you can best meet your own trade show goals. After hundreds of events, here is what are the strongest advantages of 7 kinds of game and contests, plus some strategic advice on creating more successful activations.
1. TRIVIA GAMES: Attendees self-educate, self-qualify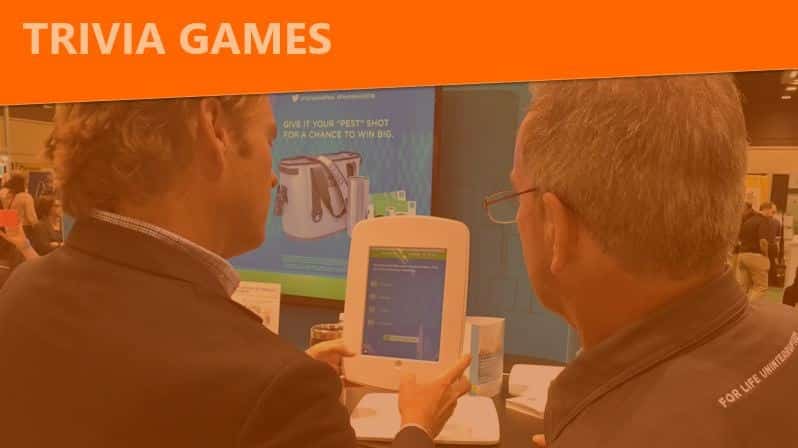 My favorite thing about trivia games is that you get to teach people about your products and services: End of story! That's the best thing about trivia games. Your booth visitors are self-educating themselves. Trivia games allow you to connect people to your products and services. So, you can talk to them about trends, you can talk to them about new features, new benefits, challenges you solve, your company history whatever you want and you are giving the person the opportunity to learn more about you while they play this game.
A client last month was telling me that their favorite thing about trivia games is that they design their questions so that people actually qualify or disqualify themselves by playing the game. So, depending on how visitors answer certain questions, the client will then decide if this is someone they should follow up with or not. So, by not even doing a survey or lead capture and focusing on that, they instead focus on how they answer those questions. That can be really valuable and sophisticated.
2. GAME SHOW: Create a buzz in your booth
Another game we have is the Game Show.  About 4 or 5 people come into the booth and they play the trivia game, but this time, against each other.  You have a game host who pushes the same question to everyone, who competes by answering the fastest and with the right answers. One of the strengths of the Game Show is that if you want to create a little buzz in your booth, the Game Show will draw an audience to watch. You need to have the space to do this well.  You can usually get more people through your booth when they play Trivia by themselves, but you lose out on the buzz of the audience that way.  It's a cool option and we see that done in a lot of trade shows. So, it is up to you to decide what's the right fit for your booth and your activation.
3. DIGITAL FISHBOWL: Visitors data enter for you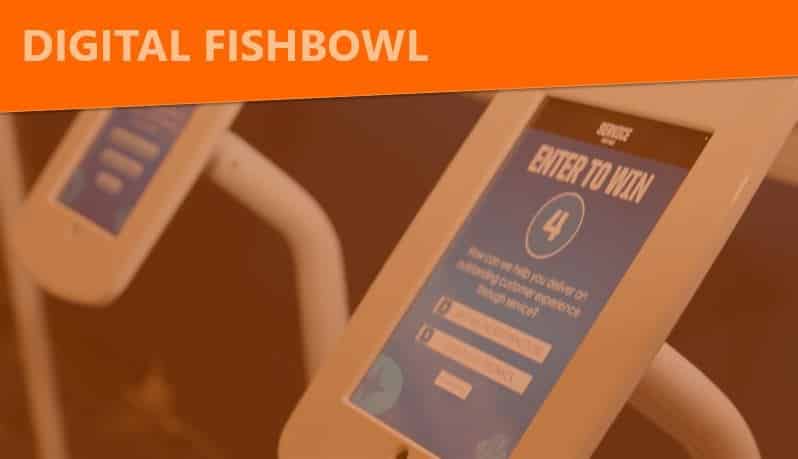 You already might have a real, glass fishbowl people put their business card in it, but that still leaves you with a stack of business cards you have to enter. In this case, with a Digital Fishbowl, you get people to enter all their lead information themselves. And, it can be more than just contact data — they may also be requesting some product documents from you, or fill out a survey. You are therefore offloading the lead data entry process to your booth visitors, but they will do it if they think it's a valuable enough or interesting prize. Then you don't have to deal with all that data. That's what I like about the Digital Fishbowl. And this is another choice; it allows you to give away a big prize at the end of the show. So, while in my opinion this isn't any fun, we do see attendees highly motivated to complete these forms, so it works. That's why we are introducing a new product called Giveaway Manager (LINK) that makes the visual experience of the Digital Fishbowl more pleasing, so that it becomes an even better experience.
4. CAPTION THIS: Simple, fun activation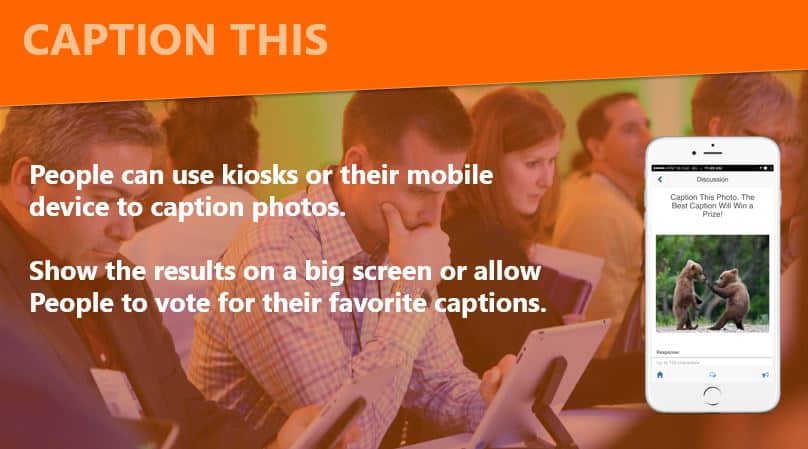 One of the things that I really like about Caption This is it allows you to create a simple activation or you can make complex.  It could be done on mobile, it could be done on tablet, it could be done on a touch screen. If you have a photo, like the bears here, people can caption it. You can make it simple just like that, and then you pick a winner for best caption and give them a prize.  I have also seen it where people will take all the best captions and allow booth visitors to vote on them. And the caption that gets the most votes wins. And you can show all of the captions on a screen. So there are different ways you can execute this game. But here's why exhibitors choose it: they are looking for a simple activation that doesn't take a lot of time, it's fun. And you still get the booth visitor data that you need, because they enter in their contact info and answer some survey questions to play the game. And by giving away a prize to the winner it becomes a contest.
5. SOCIAL MEDIA TOUCHSCREEN: Drive traffic, identify booth visitor needs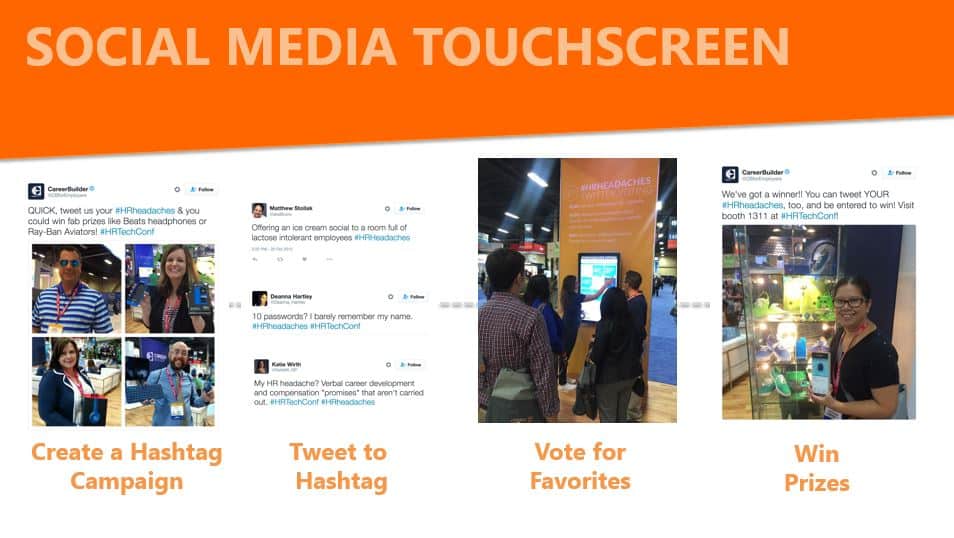 Here's another activation that, if it's the right fit for your booth, can be really slick. Some of our exhibiting clients want to engage folks with social media and therefore have social media games in their booth. To start, you create a hashtag campaign and get people at the show to tweet the hashtag. So, your brand messages end up virtually surrounding the event. In your booth, you have a touch screen and you put the best tweets on this touch screen and people have to visit you in your booth to vote for their favorites. And then the favorite tweet wins the prize.
And here's where you can get sophisticated.  So, in this case once you have people tweeting, you could have your social media person tweet back at them say, "Hey Mathew, hey Diana, hey Katie, your Tweet has been featured on our touch screen. Come to our booth and vote for because the most votes wins the prize." You could have your social media person respond back to each of those people trying to drive booth traffic. You probably are going to also expand your reach beyond the event. You might get some ideas from people beyond the event as well which could be useful to you.
Now in your booth you going to have people that tweeted but you are also going to have people that aren't on Twitter. There are a lot of people that are not on Twitter. So, they might be just interested in, "Oh, I just want to vote for the idea." So, their level of participation is to vote.  But, depending on how you organize it, you can also get these people engaged in a conversation. Like these folks at Career Builder did.  They asked people to tweet their "HR headaches" Then, their booth staffer used that as a conservation piece with booth visitors. They start a conversation with the Twitter voting, but then said, "Oh, are those headaches you really have?" "Oh, yes they are." "Well, let us help you solve those." And then that drove to why they should investigate Career Builder's product and services.
So, that's valuable two ways. You can use Twitter voting to drive people into the booth with social media, and then, once they are there, use the touch screen to kind of learn something about the person before you launch into your sales pitch or any kind of dialog or conversation.
6. SOCIAL MEDIA LEADERBOARDS: Easy contest from social media volume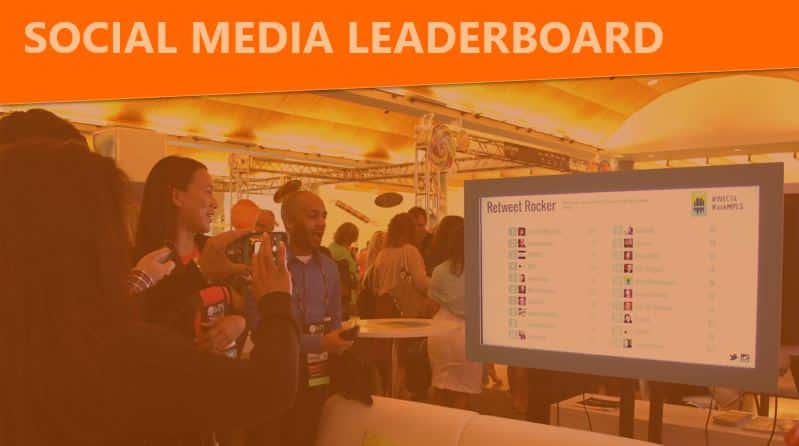 We've seen people do Social Media Leaderboards, because there is lots of interest in social media.  We see these executed a lot more in conferences than trade show booths; we see more social media walls in trade show booths.  Exhibitors using a Social Media Leaderboards are really just make a simple contest. The winners are determined by volume of social media activity, measured in several different ways.  As shown in the photo, you could honor the Retweet Rockers, and celebrate the people who do the most retweeting.  And then you give the person that retweeted the most at the show a prize.  Or, you can rank people by the most photos shared about the event on social media, or maybe it's for the most tweets overall, or the most mentions, or the most video posts. There are lots of choices. Those are different ways that you can create a simple contest with social media, that draws people into your booth and connects you with top social media users in your industry online.
7. VIRTUAL PRIZE WHEEL: Draw in lots of excited people to win prizes and capture lead data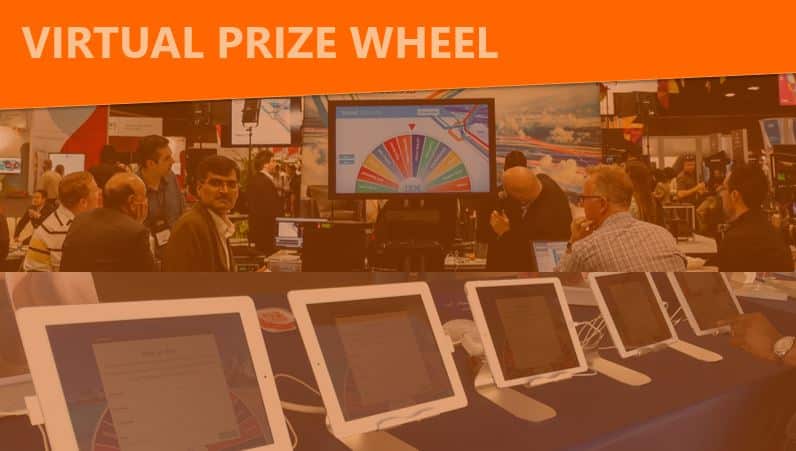 When you put a Virtual Prize Wheel on a big flat screen monitor, it will draw people in.  The wheel can spin, which will draw people in, plus you can put the names of your prizes on it.  Sometimes people like a big, real-life button that attendees hit to spin the wheel.  I talked to someone recently that said the button is the most powerful thing in the prize wheel, that's what draws people into the booth, to hit this button and have an action.  Then your booth staffers engage with them to give them their prizes, and get a conversation going.
However, let's pretend that you didn't want to use the prize wheel on a big screen. So, what's cool is that you can also do prize wheels on one or more iPads, too, and use it for lead capture.  Because not everyone want to fill out all their contact information on the big touch screen. So, you could do this set up like Delta, that used signage to drive people into the booth: "Hey, we have a prize wheel, you could win a big prize." Then they have 5 iPads, that allow them to process 5 people at a time, that fill out the form, give all their information and then have a chance to win prize. Now, instead of winning a big prize, everyone got something. You got a fan or a frisbee or a beach ball or something of that nature.
Depending on what you want to do, you could have basic prizes and you could have a grand prize. And you can decide, is that going to be given away on the wheel? Or will that be something you do a drawing about afterword?  So, there's a lot of ways you can execute your activity using a Virtual Prize Wheel.
I hope that this article gave you a better idea of the specific strengths of these 7 popular interactive trade show games and contests.  Plus, gave you insights on how to ensure your own activation of these interactives are more successful and help you meet your most important marketing goals.
To see more about how you can drive more booth traffic and capture more lead data with our interactive trade show games, feel free to contact us with questions or to discuss your event with one of SocialPoint's Digital Strategists. We'll help you create a more fun booth that increases your attendee engagement and boosts your trade show results.