15 Things Exhibitors Can Be Thankful For This Thanksgiving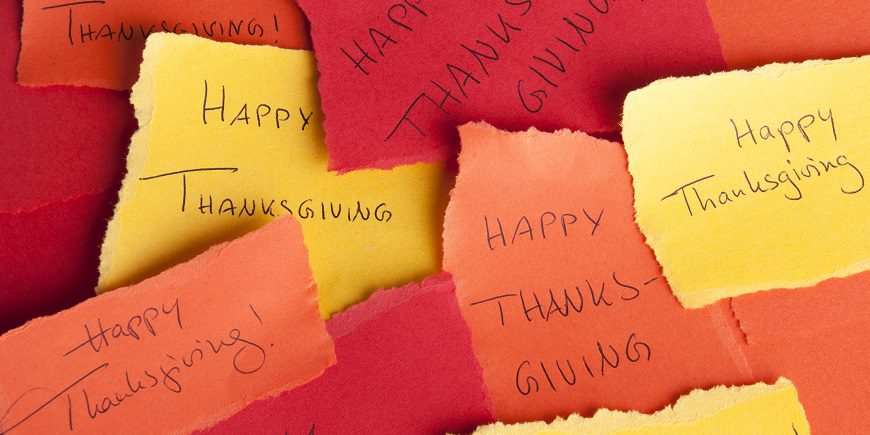 Thanksgiving reminds us to slow down and appreciate the bounty of advantages and relationships we are fortunate to have. If you've been too stressed from exhibiting to recognize bright spots worthy of your gratitude, here are 15 worthy things to give thanks for:
Give Thanks for Things That Make My Life Easier:
TSA Pre-Check that saves me tedious hours a year at airports, plus helps me avoid missing flights to shows or home
Noise-cancelling headphones that turn my too-small airplane seat into an oasis of calm and save my hearing
Interactive trade show games that dependably drive more booth traffic, increase engagement, and capture leads
Give Thanks for Trade Show Booth Staffers that:
Bring a positive attitude and willingness to every shift they staff our trade show booth
Consistently focus their attention towards engaging show attendees in the aisles rather than the smartphone in their pocket
Qualify their leads by priority and provide good notes so our field sales force has better follow-up
Give Thanks for Trade Show Organizers that:
Aggressively promote their show to grow attendance with new people that fit our best customer profile
Provide accurate attendee demographics so I can make valid comparisons between shows
Schedule unopposed show floor hours so I get 100% of attendees' attention and don't bore my booth staffers to death
Give Thanks for Company Management that:
Understands and promotes the sales and marketing value of trade shows
Reinforces the need to quickly follow-up on trade show leads
Allows me to take calculated risks to improve our trade show program
Give Thanks for an Exhibit House that:
Provides the best value for my very visible trade show budget
Helps me achieve greater overall trade show results, going beyond providing exhibit design
Over-communicates rather than under-communicates with me about timelines and progress
As a trade show exhibitor, Thanksgiving is an especially good time to reflect, having finished the fall busy season, and close enough to year's end to look back at your 2018 results. This Thanksgiving we at SocialPoint give thanks for our great clients, our growing team, our expanding suite of products, and our best year of business.
If you'd like to see more about how you can drive more booth traffic and get more qualified leads with our interactive trade show games, feel free to contact us with questions or to discuss your event with one of SocialPoint's Digital Strategists. We'll help you generate excitement, crowds, and leads.