Lead Manager: Free Companion App to Our Trade Show Games
A free lead retrieval app for your mobile devices that integrates with SocialPoint Trivia and Virtual Prize Wheel games.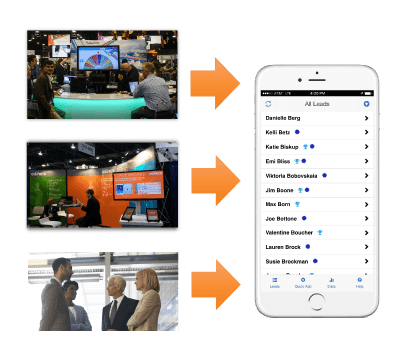 No Matter How A Lead Starts, Take it Further with Lead Manager
SocialPoint's interactive games pull in more traffic and get attendees engaged with your messages – and entering in their own lead data. Now, with the Lead Manager companion app, your booth staffers can continue the conversation, and record even more details about your leads. Staffers can even start recording a lead even if the visitor has not played a game yet.
See Our Trade Show Booth Games
Searchable Lead List
Booth staffers quickly find and add to a lead profile started by game players. Icons tell you what games they've played.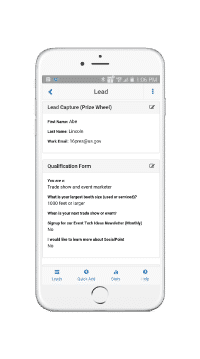 Customized Lead Forms
Ask the questions that matter the most to your business. Qualify your leads, identify marketing followups and get the data that you need to drive your business forward.
Quick Leads
Super Busy? Use the Quick Lead to add a lead. Add more contact data with notes, customizable pull down forms, lead ratings and photos of business cards.
Real Time Integration
Leads captured with our trivia games and prize wheel solutions are instantly available to booth staffers in the lead manager app.
Business Card Photos
Capture photos with your smart phone and add them to the lead record. This makes it easy to followup later.
Performance Dashboard
Track real time performance across games, multiple days, trade shows, booth staffers, all from a single performance dashboard.
Excel Download for Lead Followup
Quickly download your leads into your CRM system for personalized email and sales rep follow up.
Built-In Help
While the app is designed to be intuitive to use, your booth staffers can simply click an icon wherever they are in the Lead Manager app for help on how to use that feature of the program.