Collecting Leads At Trade Shows When There Is No Badge Scanner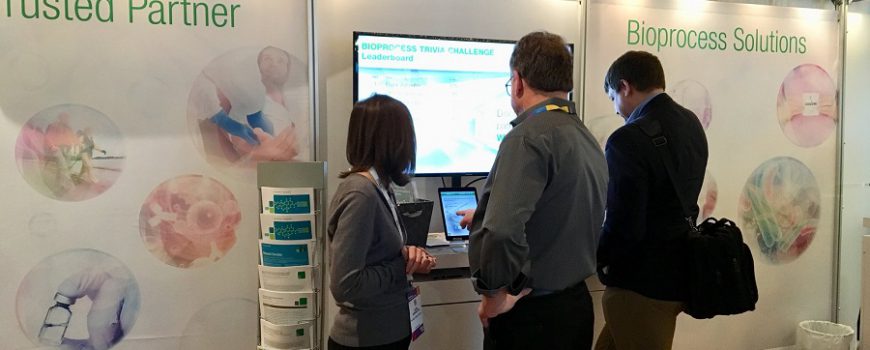 When you exhibit at a major USA trade show, it's a given that attendees will be given badges, and that you as an exhibitor can rent a badge scanner to scan those attendees. A badge scanner saves exhibitors time during in-booth interactions, allowing them to quickly gather attendees' contact info, and at some shows, a few qualifying data points, too.
But what's an exhibitor to do when the show doesn't offer a badge scanner because the show:
Is too small?
Is international in a country with more stringent privacy laws?
Is in an industry with greater security issues?
You still want to gather lead info, and gather it quickly, even if there is no badge scanner.
Here are some choices you have:
1. Gather business cards (at peril to your ROI)
Gathering business cards from your booth visitors is the default choice, employed by many exhibitors.  It is an easy choice, because it costs nothing, and business cards usually provide accurate contact data.  But because of how easy it is to gather business cards, exhibitors can overlook two fatal flaws they have:
First, business cards have no room for booth staffers to record what they discussed with the lead – such as what their key challenges are, what they are looking to fix, what their main buying criteria are, what the booth staffer offered as a solution, and what the agreed-upon next steps are. Without that key qualifying info, your leads are much more likely to be ignored by the sales reps following up on them, wasting your significant trade show investment.
Second, business cards are paper, and transferring lead info gathered from paper takes work. That means that too often, the business cards gathered at that trade show will remain with the local sales person, and will never get reported back to a centralized marketing group. That means your marketing team can't track which trade shows produced profitable sales, and can't maximize your trade show investment.
2. Gather lead data with an interactive trade show game
With an interactive trade show game, your attendee provides their contact data in order to play (for fun, to win a prize, or for bragging rights if they score high enough). Our games can be set up to require as little contact data as needed (such as contact name and email address) or more data points as desired. A second screen can ask other qualifying questions, such as how the lead wants to be followed up, and where they are in the buying process.
The fewer the questions, the faster the lead gathering process, and the quicker the attendee can go on to the fun part of answering trivia questions, or spinning a virtual prize wheel, or entering in a contest to win a prize right away (Instant Win) or in a drawing at the end of the show (Digital Fishbowl).
Exhibitors get their lead data simultaneously uploaded to the cloud, so they have access to their lead data, even if it's at a small show across the country or across the ocean. No pocketed business cards!
3. Use their own lead capture software 
Exhibitors can also outfit their booth staffers with a for-pay software or app not affiliated with the show, that gathers lead data.  Even better, we have a free companion app called Lead Manager that ties into our games, so you don't have to data enter the info supplied by the game players. Our app lets booth staffers record further notes and qualifying data with their booth visitors who play our games.
Our Lead Manager App even syncs the leads' email addresses to pull down the leads' social media profile, company profile data – even the leads' profile photo from social media.
So, if you are at a show without a badge scanner, you're no longer at a loss. With all the data your booth staffers can gather with a digital trade show game, you gather even more lead data than with a badge scanner, plus with the added value of the greater booth traffic and engagement the game provides. And of course, a digital game helps you far exceed the lead qualifying data that you could ever get with a business card.
If you'd like to see more about how you can drive more booth traffic and capture leads with our fun interactive trade show games, feel free to contact us with questions or to discuss your event with one of SocialPoint's Digital Strategists. We'll help you generate a serious increase in excitement, crowds, and leads.