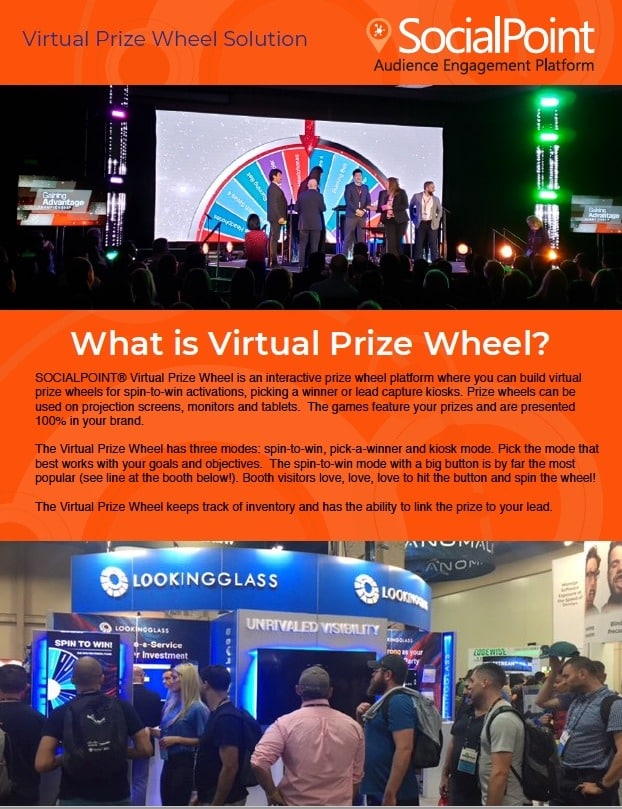 Request Your Free Brochure, OnDemand Demo, and Spin-to-win Wheel examples!
Virtual Prize Wheel
Learn how to create fun experiences with the Virtual Prize Wheel. This brochure explains how the game works, why it works and what customers think of the game. Plus, you will get access to a 5 minute demo explaining the wheel, prize wheel examples that you can try yourself and videos of the wheel in action at events.
Engage Virtual Attendees
Turn boring drawings and prize-giveaways into fun virtual experiences with our virtual prize wheel.
Boost Your Results
Draw attendees into your virtual trade show booth for a chance to win prizes.  Use custom lead forms to capture leads and boost the ROI of your virtual trade show booth investment.
Increase Engagement
Everyone loves to spin the virtual prize wheel. Players always believe they are going to win the trip to Hawaii, even though the odds favor them winning branded company swag.
Fun Prize Giveaway
Rather than give everyone a prize, use this fun game of chance to give everyone an opportunity to Spin to Win your event swag.
Complete this form to receive a digital download of the Virtual Prize Wheel brochure, onDemand Demos and Spin-to-win wheel examples.