How Our Booth Games Improve All 5 Steps of the Trade Show Lead Cycle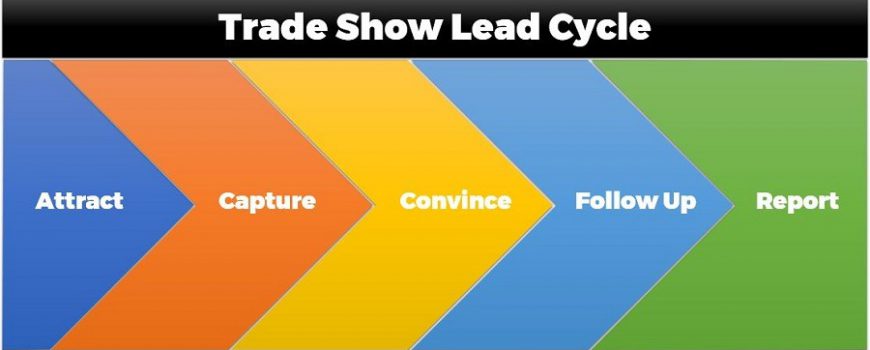 Just as there are 60 minutes to an hour and 4 seasons to a year, there are 5 steps to the trade show lead cycle:
Attract
Capture
Convince
Follow-Up
Report
Every step of the cycle is key to generating leads that turn into sales and profits. That's why we've designed our interactive trade show booth games to help facilitate each step:
1. Attract trade show leads
Attracting trade show leads is certainly the best-appreciated reason for using our trade show booth games. Attendees walk into your booth for the fun, the excitement, the cool-looking branded visuals, the chance to win prizes, and to compete for bragging rights. Our games will help you attract more attendees out of the aisle and into your booth.
2. Capture trade show leads
Once you have attendees in your booth, you want to gather contact and qualifying information about them.  Our games do that in 3 ways.  First, attendees supply very basic contact info (name, email address) and answer a survey question or two to play a game. Second, if you are using our free add-on Lead Manager app, your booth staffers can access attendee lead info started on our booth games, and then add more qualifying info. And third, thanks to our revolutionary enriched data with our Lead Manager app, you get attendee's social media and company profiles, so you have even more info about your leads.
3. Convince trade show leads
Just because you've stopped and identified a lead, it doesn't mean you've convinced them that your company is a potential vendor. This is where our Challenge Bar Trivia Game excels.  While attendees are having fun playing our trivia game, they are actually learning insights and factoids about what makes your company a better choice, or what other products you offer.  You get higher quality leads as a result.
4. Follow up trade show leads
The lead data gathered by our booth games is fully exportable into Excel files that you can then import into your CRM system for both marketing fulfillment and sales follow up.  You can include qualifying questions attendees answer before they play the game that allow you to rate their lead quality and escalate lead follow up activities. Or, by using our Lead Manager app, your booth staffers can send lead fulfillment emails from their smart phones, and attach your digital brochures – while still on the show floor!
5. Report trade show leads
Our SocialPoint creative suite of booth games all integrate with our game platform, which includes a robust set of analytics and real-time dashboards.  You can share these dashboard chart visuals and charts with your management team, or export the lead data to do further analysis before sharing.
From attraction to analytics, you can get extra value all the way through the trade show lead cycle with our interactive booth games.
If you'd like to see more about how you can drive more booth traffic and get more qualified leads with our interactive trade show games, feel free to contact us with questions or to discuss your event with one of SocialPoint's Digital Strategists. We'll help you generate excitement, crowds, and leads.