Digital Fishbowl: New, Entry-Level Trade Show Game Made Powerful With Improved Lead Capture App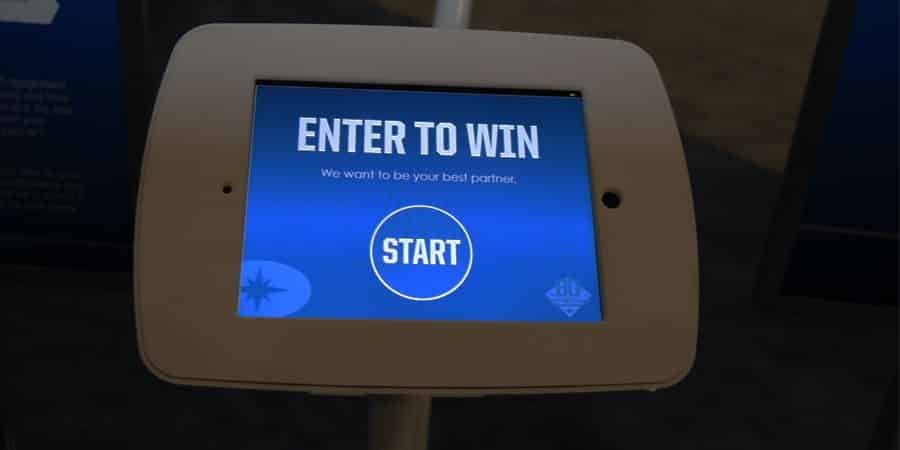 SocialPoint has added a new interactive game to its suite of trade show games.  The Digital Fishbowl provides exhibitors another fun way to digitally collect leads at a trade show.  Attendees enter in their own data because they want to win a prize.  Attendees also fill out digital surveys and declare their interest level, helping qualify leads.
While the Digital Fishbowl joins our product suite as the lowest-priced game (at only $1,000 for first use and set up, and $750 a game after), it still includes the advantages of our other interactive games:
Increase booth traffic with fun interactives for exhibitor's flat screen monitors and iPads
Look awesome with innovative visualizations
Capture more leads and help exhibitors follow up leads faster
Get leads entered by game-motivated booth visitors, including lead data and qualifying information
Measure performance with real-time analytics
Are configured, not custom programmed, so they set up fast and are reliable at-show
Click here to request a demo of our new Digital Fishbowl game.
What makes Digital Fishbowl even more powerful is that we are simultaneously launching an exponential improvement to our Lead Manager app, that comes free with our games.  Here's the story on that:
Lead Manager App Now So Good, You Don't Need a Badge Scanner Anymore!
Lead Manager App Improved by Instantly Synching to Attendee Social Media Profiles, Plus Email Lead Fulfilment Right from the Booth!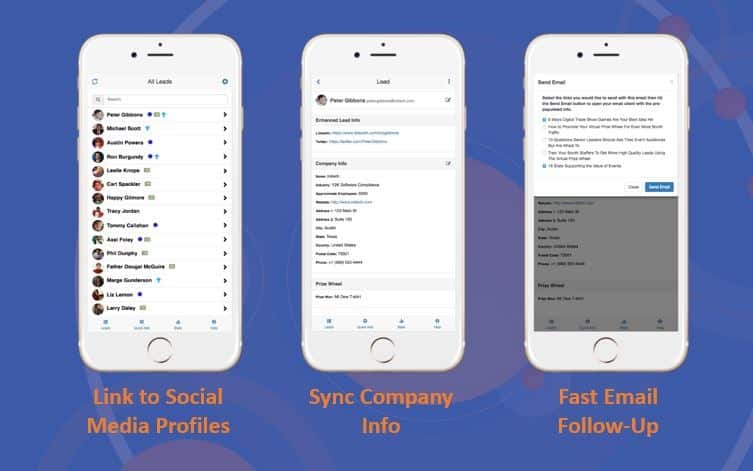 For several months we've offered a companion Lead Manager app, that comes free with our interactive trade show games, to give booth staffers a way to see and expand upon the lead data entered by game players in their booth.
Now, we've taken that tool to a whole new level, giving exhibitors, especially smaller exhibitors, a complete trade show lead generation, capture, and fulfillment system.
Right from your booth staffers' mobile devices, they can instantly see photos of the attendees who play their games, get links to the attendee's social media profiles, and get qualifying info about the attendees' company, such as industry and company size. 
That's because our new Lead Manager app instantly syncs that data from the cloud when the attendee enters their email address to play a SocialPoint game. It looks like magic, and for your booth staffers, it is.
Then, you can immediately fulfill your trade show leads, because our Lead Manager app tees up to send a fulfillment email for each lead your staffers talk with, complete with links to product documents requested by attendees.
Click here to set up a demo of our improved Lead Manager app, which also works with our popular Challenge Bar Trivia and Virtual Prize Wheel games.
We are also offering the Digital Fishbowl for an unlimited annual use (unlimited shows, unlimited booth staffers) with one configuration for $3,000.  Exhibitors will be able to re-set the lead counting for each show within the analytics.  When the Digital Fishbowl is combined with the new & improved Lead Manager app, you no longer need a badge scanner at each show – so the game can pay for itself!
If you'd like to see more about how you can drive more booth traffic and get more qualified leads with our interactive trade show games like the Digital Fishbowl, feel free to contact us with questions or to discuss your event with one of SocialPoint's Digital Strategists. We'll help you generate excitement, crowds, and leads.