Looking for Interactive Booth Ideas? 5 Ways Digital Trade Show Games Are Your Best Idea Yet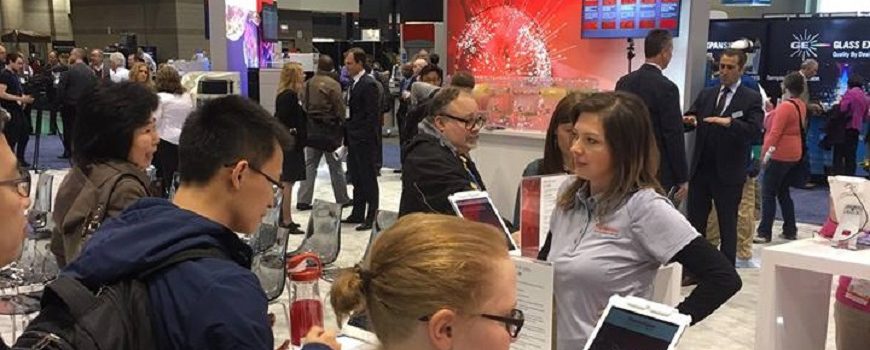 If you're like many exhibitors we talk to, you're done with doing a dull trade show booth.  You want your booth hopping with the action and engagement that comes with an interactive experience.  That's why you're on the hunt for interactive booth ideas that help you get people talking.
But while there are lots of ways to make your booth more interactive, unfortunately they won't all help your company advance its trade show and marketing goals.
Here are 5 criteria for choosing a trade-show-marketing-driven interactive booth idea – and how our digital trade show games meet them all:
1. Create excitement & attract visitors
The best interactive booth experiences are so fun and exciting, it's obvious to people as they walk down the trade show aisle, and so they feel compelled to enter your booth and get involved. And as more people come in, they create a snowball effect, because a crowd attracts a crowd.
Our digital trade show games do just that. People line up to play, because they want to spin the wheel, win a prize, be the leader, compete against their friends, show their expertise, and test their knowledge. Your booth will be busier than most with our games.
2. Bring booth visitors and staffers together
A good interactive booth idea brings people into your booth, a great one brings them together. An activity that helps initiate and facilitate a conversation between your booth attendees (who are often shy about talking with your booth staffers) and your booth staffers (who sometimes come across as too aggressive) advances the buying cycle and gets you closer to taking a lead, rather than merely entertaining them.
When attendees play our Challenge Bar Trivia game, they end up asking for (or not refusing) help from booth staffers on questions they are not sure about.  As the attendee and the booth staffer work together on answering the trivia questions, a relationship is formed, which makes it so much easier to turn the conversation towards how your company can solve their business problems.
3. Help promote your brand and marketing message
We've heard of exhibitors who lurch at the first interactive booth idea proposed, because it sounded novel and fun. Sometimes it was a mistake, because they didn't ask a key follow-up question: Will this activity not only be fun, but also be consistent with our brand, and help promote our marketing message?
We know this because that's what we've designed our digital games to do.  We promote your brand by creating bold visuals that are customized around your brand colors, fonts, images, and messages.  And going even further, when attendees play our trivia game in your booth, they learn whatever you want them to learn about your company and its products.  So they have fun, and absorb your brand at the same time.
4. Require less effort to set up
Trade shows are notorious for requiring attention to a thousand small details to succeed.  And by adding an interactive activity, you have increased the number of potential details significantly. That level of detail is especially needed if you choose a digital interactive activity, which more and more exhibitors are doing, to demonstrate how modern their brand is.
Until a few years ago, we built interactive digital activities for event marketers one at a time, writing new code to create our games.  But we've made it easier for you, because we built out a game platform that allows us to configure digital games, rather than code them from scratch.  That means we can build you a digital trade show game in less time, for less cost, with less risk, and less effort on your part.
5. Gather lead data for post-show follow up
This is where many interactive booth ideas simply fall down.  They may be fun, they may get your message across, but they were never envisioned to also gather contact and qualifying data about your booth visitors, and then leverage that new data for personalized follow up after the show.
Yet, that's what we've done with our digital trade show games. Your booth visitors give you their contact info – and even answer qualifying questions – to play our games.  Then, after the show, you can easily export the lead data, to then send follow up messages to your trade show leads, and even tailor your messages (and your level of follow up) based on info the game gathered.
As the person responsible for your company's trade show success, you've already graduated beyond the average by seeking an interactive booth idea.  Now, go to the head of the class by using our digital trade show games that not only provide a fun experience, but also create dialog, promote your brand, ease your workload, and facilitate better post-show lead follow-up.