5 Valuable Benefits Many SocialPoint Game Clients Discover Only AFTER Their First Trade Show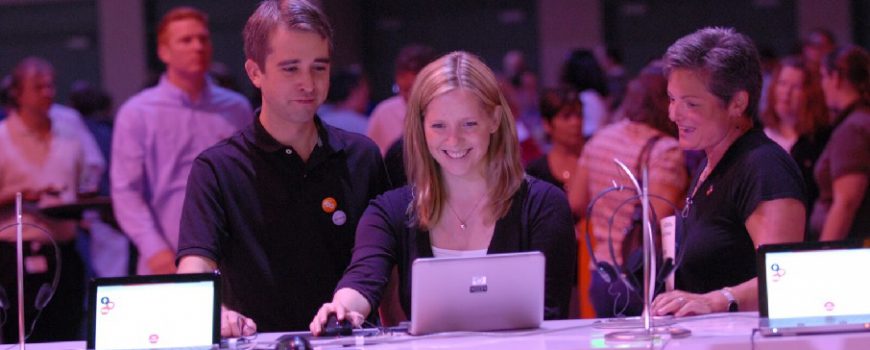 If you are reading this, then you are probably considering SocialPoint for the first time.  Perhaps, you are even considering interactive trade show games as a marketing tactic for the first time.
Because many B2B exhibitors spend 40% of  marketing budget on Trade Show Marketing.  The stakes are high for you and your team. Getting a positive return on your investment is important.
After a few more shows, we regularly get feedback from customers who value these 5 other benefits they receive from using our interactive trade show games:
1. Ability to compare shows to each other
When an exhibitor uses a game like our Virtual Prize Wheel or the Challenge Bar Trivia, all the leads they take are housed in the same reporting system.  So, after several shows, our clients can not only see how many leads they took at every show in one place, but they can also compare their lead counts from show to show.  For some of them, this is the first time they have a consistent measure of their trade show lead generation, which sparks some big "Aha!" moments.
2. Initiate more open attendee conversations
A surprising number of trade show attendees are reluctantly walking the show hall, fearing scary encounters with overly-aggressive booth staffers.  When our customers return from their first show, they tell us how our interactive games brought people into their booths, who, after playing the games, became more open and willing to talk to booth staffers.  Attendees' answers to the games become safe conversation starters, which then transition to more open and meaningful business conversations.   So, our tech becomes an ally in fostering better human interactions.
3. Easy to set up and use
Anything relating to technology strives to be simple, but more often than not, ends up being beyond the tech skills of the average person.  And when you are dealing with an unfamiliar technology that has been customized for your unique needs, and then given to a new person to use, half a country away, well, the expectations are low.  So, we understand how our clients are surprised how easy they found to set up and use our interactive games at their first trade show.
4. Responsive advice and service
Admit it, you're worried that working with a tech company is going to put you in contact with a bunch of geeks.  Or even worse, you can't actually get ahold of anyone.  Our customers are pleasantly surprised at the experienced advice they get in setting up their games, and the responsive support they get to help them set up at their first show.   After over 1,000 events, we know what works, and are more than happy to guide you towards a more successful show.
"The SocialPoint game was an innovative interactive approach to drawing attendees to our booth. But the care and set up approach by the SocialPoint team also make this a win.  They think of everything and and make it easy to get help along the way."
5. Lower cost for shows after the first show
SocialPoint customers buy our software and support and find it a worthwhile investment for their first show.  But when they continue to use our interactive digital games and get our support during show number 2, 3, 4, and more, they find they are getting that same boost of leads and great customer service, but at a fraction of the cost they paid for their first show.  So the ROI from using our interactive games continues to increase as the price goes down.
Now that you've read this blog post, you don't have to wait until after your first trade show with SocialPoint to discover how we can deliver these benefits!
If you'd like to see what our interactive trade show games can do for you, feel free to contact us with questions or to discuss your event with one of SocialPoint's Digital Strategists.  We'll help make your trade shows more fun and successful, in oh so many ways.