4 Ways To Boost Your Trade Show Giveaways Impact With Our Virtual Prize Wheel Game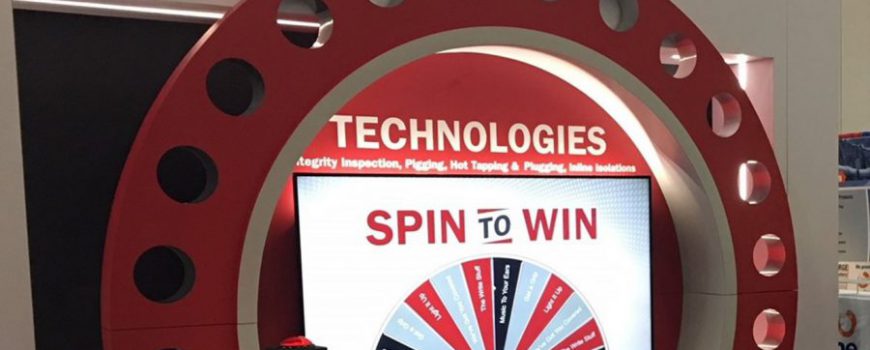 Chances are you've used trade show giveaways to drive more booth traffic.  It's a time-honored tactic that gets attention and lets attendees go home with a souvenir to remember you by.
But your giveaways can do even more to help increase your trade show results.  You can boost their marketing impact in 4 powerful ways, by combining your giveaways with our Virtual Prize Wheel.
Here's how our Virtual Prize Wheel adds impact to your trade show giveaways:
1. Make your trade show giveaways more exciting to attract more visitors
When you show a colorful prize wheel on a big flat screen monitor, complete with photos of your big prize, it clearly signals to attendees that there's a fun and beneficial reason to visit your booth.  Attendees get more excited to try to win a prize – even if it's the same giveaways you would have given them anyhow!  And attendees love to smash the big button that drives the prize wheel on the screen.  As people spin to win, their enthusiasm and squeals attract attention from other attendees.  Nothing attracts a crowd like a crowd!
2. Leverage your trade show giveaways to capture more lead data
Ever have an attendee walk into your booth, grab your giveaway, and leave? It's your trade show booth, not Halloween!  You can set up our Virtual Prize Wheel on one or more iPads, where attendees enter in their contact data, answer a few qualifying survey questions, and then hit the button on-screen to win their prize.  Now you are capturing your booth visitors' valuable lead data, uploaded to the cloud, immediately available to you, even if you're not on-site!
3. Enhance your brand while offering trade show giveaways
It's common to customize your trade show giveaways by printing or embossing your company logo on them, or by choosing giveaways in your company colors.  The best giveaways are thematically linked to your marketing message, helping attendees better remember your company and benefits. You can go one step further with our Virtual Prize Wheel game, because we customize the screen visuals to your brand.  You can pick the wheel and background screen colors and font, add in your company logo and brand images, plus any show-specific images or messages. Plus, the Virtual Prize Wheel adds a patina of modern cool to your brand, especially compared to a regular prize wheel.
4. Better manage the proportion given of major and minor trade show giveaways
While a pile of $5 giveaways can bring in some people, offering a bigger prize will entice even the most jaded attendees to walk in. But you don't want to give those valuable prizes to everyone, lest you go broke.  With our Virtual Prize Wheel, everyone can spin the wheel to have a chance at a big prize that your feature on your game graphics, but you can set the proportion of big prize winners to whatever you want.  Let most attendees win smaller prizes, yet get more attendees in.
Trade show giveaways work, which is why exhibitors continue to use them. But with our Virtual Prize Wheel, your giveaways will drive even more traffic, facilitate lead data capture, and enhance your brand.  So you get more leads, sales, and profits from your trade show investment.
If you'd like to see more about how you can drive more booth traffic and capture leads with our fun interactive trade show games like the Virtual Prize Wheel, feel free to contact us with questions or to discuss your event with one of SocialPoint's Digital Strategists. We'll help you generate a serious increase in excitement, crowds, and leads.