How To Pick Winners For Your Game Prizes & Giveaways At Events and Trade Shows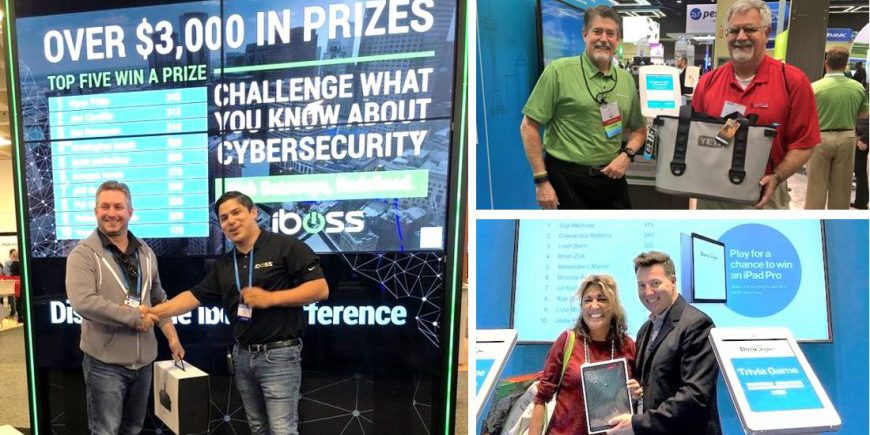 One of the most popular questions our clients ask is, "What is the best way to structure how we pick winners for prize giveaways in our game?" Our clients want to feel confident they are doing the right thing to make their trade show booth games or event gamification a success.
Since we build so many different types of games for many different kinds of events, we have seen a lot of good ideas and bad ideas on picking prize winners. Below I will share only the good ones!
Rewards, Recognition, or Both?
Usually, clients want to create a fair process and make players feel like they still have a chance at success.  A common fear is that the prize will appear out of reach after the first day.
Players are not all motivated the same way. Some will play for your prize; others will play to beat Dan from Accounting. 
Your reward and recognition approach needs to appeal to this diverse set of players. An easy way to think about it is the following:
Leaderboards are public recognition devices. They help players see who is the best and who is better than me.  And everyone should be better than Tom in HR!

Rewards, on the other hand, could be prizes that you win, or badges that you collect.
When we think about creating games that appeal to a wide range of players, we think about strategies for rewarding the players and recognizing them.
How to pick winners for your game
Here are nine different ways you can choose winners for your game:
The Player with the Highest Score
Keep it simple. Pick the Player with the top score on the leaderboard. They will win your prize. Easy to understand for players. Easy to administer for booth staff.  Players will return to see if they are still winning.
Daily Winner
Another popular option is to pick a daily winner. In this case, the player at the top of the leaderboard will get the prize for that day, and then you start over the next day. This keeps more people engaged because they have more chances to win.
Top 3 Players on Leaderboard
Some clients offer prizes to the top 3 or 5 or even 10 players on the leaderboard. It's another strategy to create multiple winners and keep people engaged.
Every Player Receives a Prize (Same prize)
Clients will give small branded giveaways to every game player for participation.  It's a common strategy for Healthcare clients who have to follow the Sunshine Act or AdvaMed code.
Every Player Receives a Prize (Spin to Win)
Some clients reward players with a chance to spin a prize wheel and see what prize among several choices that they win.  We have seen this done in a lot of different types of games.
Prize Drawing
Use of a random drawing or drawing a name out of a hat – has been around for 100 years. If you do it from the stage, you are recognizing the player for being chosen.
Earn X Points and Be Entered to Win
After players earn X points (or complete X challenges) in the game, enter them into a grand prize drawing. So while the top contenders earn their chance to win the big prize, the final winner is determined by chance.
Earn X Points and Win A Prize
A popular way to keep players engaged in a multi-day event game is to give them a prize after they earn X points.  They might not receive the most points, but it gives them a chance to win a reward anyway.
The Winning Team
Team: Together Everyone Achieves More.  Teams work together to achieve a more significant result than individuals would do otherwise.  Organize players into teams and capture the team's score, and then give prizes to the winning team.
How to recognize players in your game
Everyone wants to see their name in lights. Everyone wants you to acknowledge that they are  Capital A Awesome. How can that work in a game in a trade show booth? Or, at your event? You aren't going to print certificates. Save the participation trophies for herculean efforts, such as climbing a mountain while riding a Pogo stick in minus-40-degree weather.
How can you add recognition to your game to give the players an additional sense of satisfaction?  Here are three ways:
Leaderboard
Every player wants to see their name in lights. They want to see their name above yours most of all. The leaderboard is an easy way to recognize players for their awesomeness.
Name Wheel Picker
When you select a winner from the stage, you give the winning player a chance to be recognized by his or her peers. People love the drama of seeing their name on the wheel. As the names spin around and around,  people like to see their names, especially when the name wheel slows down.
Photo of Winner with Prize on Social Media
Take a picture with the prize winner and share it on social media or put it on digital signage. These photos are another form of recognition for the players and the winners.
Done right, offering prizes and recognition are great incentives to increase participation in your events and in your trade show booths.  I hope this article has given you insights into how you can boost engagement by how you award giveaways and recognize your game players.
SocialPoint can help you boost engagement at events and drive more traffic in your trade show booth.  Click here if you would like to talk more with our team.