Best Trade Show Giveaways: 2018 Survey on Strategies, Features, Choices & Perceptions
Because exhibitors use our Virtual Prize Wheel to manage awarding their trade show giveaways, in the summer of 2018 we surveyed exhibitors to find out:
What trade show giveaways are working best now?
What do exhibitors seek when selecting giveaways?
What value do giveaways bring exhibitors?
Whether you call them premiums, swag, tchotchkes, or simply gifts, giveaways are as ubiquitous at trade shows as aisle carpet, banner stands, and lanyards.
But just because trade show giveaways are everywhere doesn't mean they are being used to their full potential. Use our survey insights to get more from your trade show giveaways.
Best Trade Show Giveaways STRATEGIES: Offer Multiple, High, and Low Values
Exhibitors were given in the survey the choice of 7 strategic uses of trade show giveaways.
At 53%, the most popular giveaway strategy was, "We offer multiple levels of giveaways, and give the more valuable gifts to our best leads." Survey participants further explained why they use that strategy:
"I think that you need to have giveaways that are cheap and out front for everyone but when customers spend the time to come in to the booth and discuss our product that we have other giveaways like a Yeti mug or something a little more valuable to give them."
"I am an advocate of having one small (under $1) giveaway that is good for the "trick or treaters", and then several levels of giveaways for our better customers, but these are used to motivate a behavior such as interaction with our exhibit content or something."
"We like to offer small items to those that just stop by, but for those willing to provide information, we up the offering and add a drawing incentive."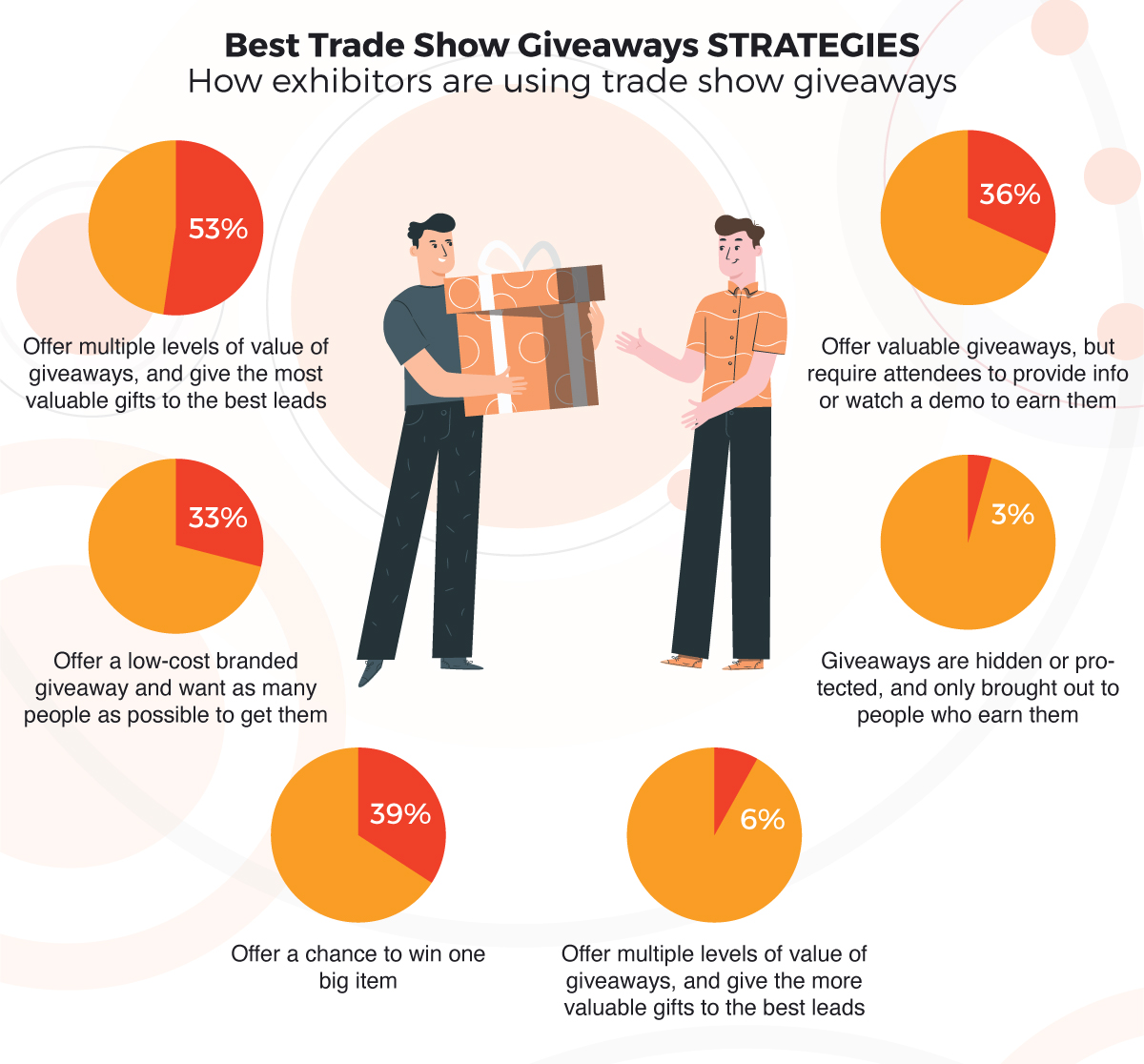 At 39%, the second-most popular giveaway strategy was, "We offer a chance to win one big item."
At 36%, the third-most popular giveaway strategy was, "We offer valuable giveaways to get more traffic, but require attendees to provide info or watch a demo to get them." All three of the exhibit quotes above that have multiple levels of giveaways also require some interaction for the higher levels.
At 33%, the fourth-most popular giveaway strategy was, "We bring one kind of low-cost branded giveaway and want as many people as possible to get them." This is almost the same number of people who chose the exact opposite strategy as the #2, choice, raffling off a single high value giveaway!
Individual exhibitors also shared their own favored strategies on how they used trade show giveaways:
"At large shows, we offer different giveaways every day to draw repeat traffic. Use them at every show. Our audience expects and appreciates swag."
"Best reserved for target audience and to be used as a conversation starter; wouldn't leave them on a table for the general attendee population."
"We do a product demo to get visitors in our booth and do a raffle for a larger prize. This is a great way to draw people while educating them and offering an incentive to stay."
"In the manufacturing industry, we go to trade shows attended by engineers who prefer useful, practical giveaways that they can use on the job."
Best Trade Show Giveaways FEATURES: Imprinted With Logo, Valuable, Useful, Trendy
We asked exhibitors to indicate which of 12 potential features did they want when choosing their trade show giveaways.
By far and away, at 92% of exhibitors agreeing, the most popular feature was, "Can be imprinted with our logo." This most-desired feature has kept a huge custom-imprinted giveaway industry very busy!
At 61% and tied for the second-most popular giveaway feature were, "Perceived as valuable" and "Useful to our target market."
At 56%, the fourth most popular trade show giveaway feature was, "Trendy."  Exhibitors want something new that attendees haven't already bought for themselves.
At 53% and tied for fifth place were, "Low cost" and "Tie into our marketing message."  One survey respondent agreed with both:
"We're always looking for the best item that ties into our brand but is also cost efficient. We'll spend more on premium items and save them for the right events but it's hard to find low-cost, unique items that everyone doesn't already have a million of."
You can find exhibitors' other preferences for trade show giveaway features in the chart below:
Top Trade Show Giveaways CHOICES: Stuffed Toys, Hats, Yeti Cups, T-Shirts, Electric Fans
Exhibitors who answered the question, "What was this year's most successful trade show giveaway for you?", had many replies, some duplicated.  More than one exhibitor favored stuffed toys, hats, Yeti mugs, T-shirts, and electric fans.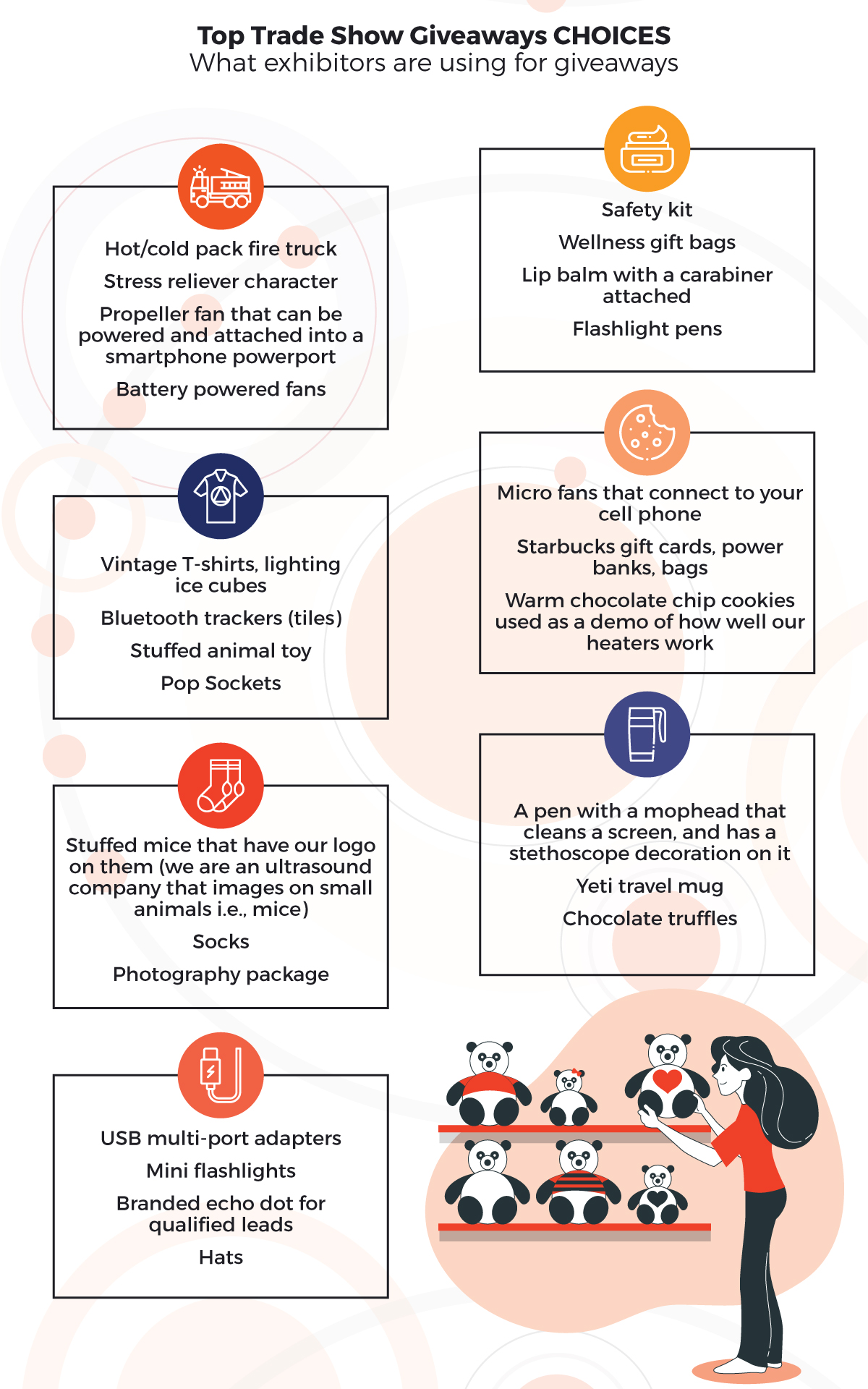 Here are their favorite giveaways, which often were useful, technical, or tied to their brands:
"Hot/cold pack fire truck"
"Stress reliever character"
"Propeller fan that can be powered and attached into a smartphone powerport"
"Battery powered fans"
"Safety kit"
"Wellness gift bags"
"Lip balm with a carabiner attached"
"Flashlight pens"
"Vintage T-shirts, lighting ice cubes"
"Bluetooth trackers (tiles)"
"Stuffed animal toy"
"Pop Sockets"
"Micro fans that connect to your cell phone"
"Starbucks gift cards, power banks, bags"
"Warm chocolate chip cookies used as a demo of how well our heaters work"
"Stuffed mice that have our logo on them (we are an ultrasound company that images on small animals i.e., mice)"
"Socks"
"Photography package"
"A pen with a mophead that cleans a screen, and has a stethoscope decoration on it — our target audience is nurses, and they love it – actually visit our booth to request it year after year"
"Yeti travel mug"
"Chocolate truffles"
"USB multi-port adapters"
"Mini flashlights"
"Branded echo dot for qualified leads"
"Hats"
Top Trade Show Giveaways BENEFITS & PERCEPTIONS: Help Attendees Remember Post-Show, Drive Traffic, Start Conversations
In our survey about exhibitors' perception of trade show giveaways, their responses were overwhelmingly positive. They agreed far more with potential benefits than disadvantages.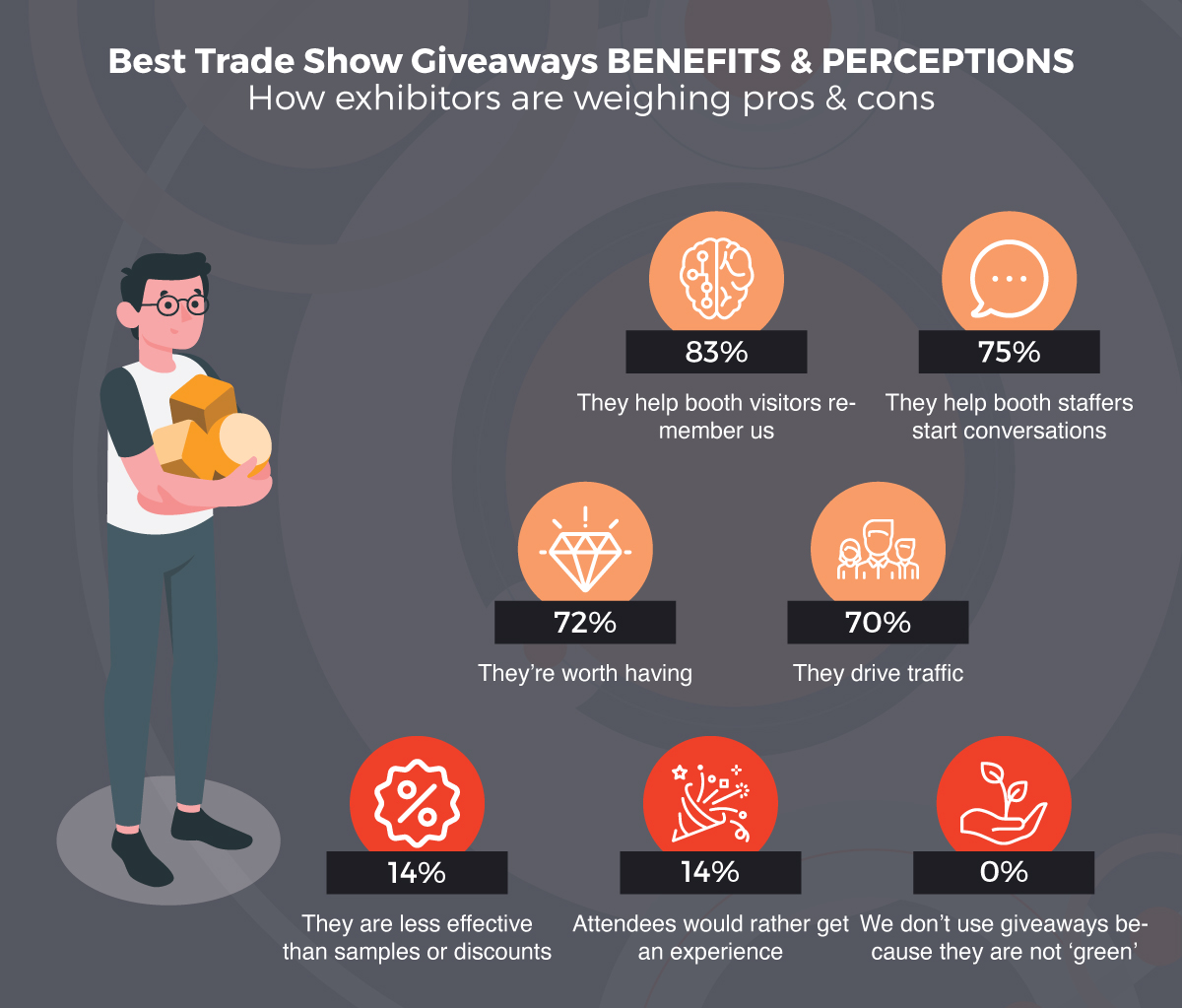 At 83%, the most popular reason for exhibitors to favor giveaways was, "Trade show giveaways help booth visitors remember us after the show."
Individual exhibitors gave many similar justifications for using giveaways:
"I believe it helps the viewer retain information from the booth. Good memories will promote good feedback and word of mouth."
"I see the value in giveaways – as a brand-building opportunity."
"I think giveaways should remind attendees about our company (& hopefully thinking of us first when they have challenges, to know we have the solution). Something useful in their everyday activities within their organization."
"I think trade show giveaways work best when they are branded and tie into the marketing message and theme of your booth. It needs to reinforce the exhibitor's brand and remind the attendee of that single message you want then to take away from your booth. Everyone is competing for attention at trade shows. Your message has to be singular, strong, hard-hitting, and remembered after the show. This can only be accomplished by pulling that message through as many advertising and marketing channels as possible. The giveaway is no exception and can be a powerful tool in helping good prospects become good customers after the show."
At 75%, the second-most agreed upon reason is that "Trade show giveaways help booth staffers start conversations." This is a surprisingly overlooked benefit of giveaways. Think about all your shy booth staffers needing help getting a dialog going.  Trade show giveaways can be their security blanket!
At 72%, the third-most agreed upon reason is "Trade show giveaways are worth having." As one exhibitor memorably wrote:
"Giveaways are the nuclear power to our trade show results."
At 70%, the fourth-most agreed upon reason is "Trade show giveaways drive traffic to our booth."  Tellingly, several exhibitors said, in nearly identical words, how they value both driving traffic and starting conversations, the number 2 reason for giveaways. This is a good indicator of how giveaways provide value:
"They're a good driver to the booth and we've had good conversations."
"They bring attendees to our booth and help get conversations started."
"They draw attendees to the table and are conversation starters."
"Giveaways are a way to draw peoples' attention to our booth so we can initiate a conversation."
The most-agreed upon negative perception, held by 31% of survey respondents, is that "Trade show giveaways only attract trick-or-treaters."
Interestingly, one individual exhibitor accepts treat-or-treaters as an acceptable price to pay:
"Giveaways can be a great draw to a booth if it is cost-effective and has high perceived value. Fun, colorful and trendy items work well. We do get some trick or treaters but that's OK too. Our brand and logo are still getting out there."
Trade show giveaways are an essential part of most exhibitors' exhibit marketing. Trade show giveaways help attendees remember their brands post-show, and help exhibitors drive booth traffic and start conversations. Popular giveaways are imprinted with the exhibitors' logos, are useful, valuable, and tie into their marketing messages.   I hope you've been inspired by this survey report to make changes for the better with your trade show giveaways.  You might consider how our Virtual Prize Wheel boosts your trade show giveaways' impact.
If you'd like to see more about how you can drive more booth traffic and capture leads with our fun interactive trade show games, (and better manage your trade show giveaways with our Virtual Prize Wheel), feel free to contact us with questions or to discuss your event with one of SocialPoint's Digital Strategists. We'll help you generate a serious increase in excitement, crowds, and leads.