How SocialPoint Just Had A Great Trade Show – Using Our Own Interactive Trade Show Games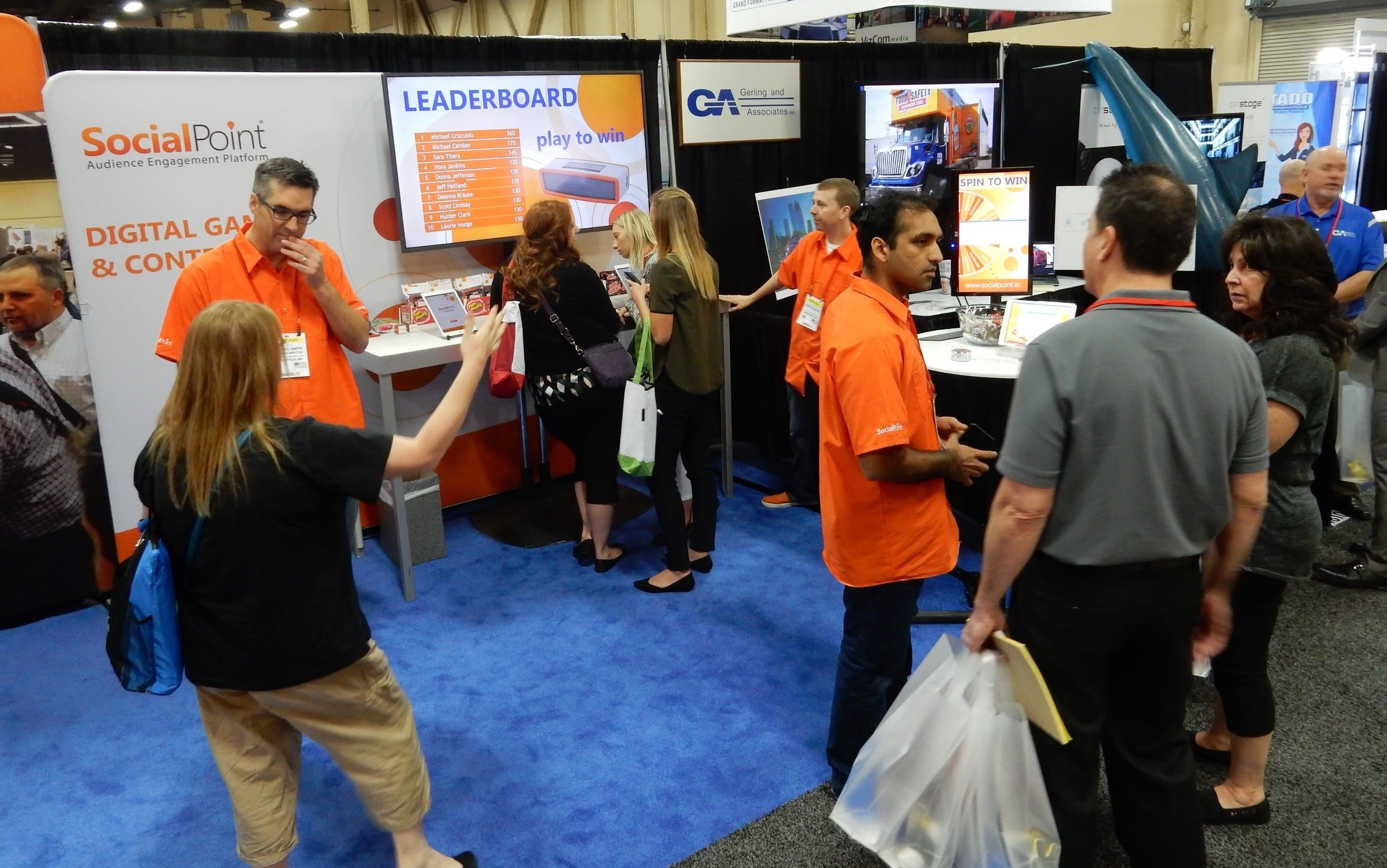 SocialPoint just experienced ourselves what our clients experience in their own booths: The traffic-building, awareness-boosting, conversation-starting power of SocialPoint's interactive trade show games and contests.
SocialPoint Exhibited at ExhibitorLive 2017
SocialPoint just finished exhibiting at our very first ExhibitorLive Show, March 13 to 15, 2017, at Mandalay Bay in Las Vegas.  It was a huge success, because the audience of major trade show exhibitors quickly grasped and wanted the power of our interactive games to build booth traffic and foster attendee engagement.
We witnessed how our games trigger all kinds of emotions, as our booth attendees got excited, happy, curious, proud, anxious, and greedy while playing.
10 minutes into the first day, we had 4 people walk into the booth, and we never looked back for almost 3 ½ hours.  We had 3 games people could play in our booth – and with those choices, nearly everyone had a game they wanted to play.  Once we had attendees in our booth playing our games and talking with us, other show attendees were curious to see what the fuss was about.  A crowd truly draws a crowd, and the games got the crowd started.
Our Interactive Trade Show Games Got Attendees Interacting!
People gladly filled out few qualifying questions we asked on the forms to spin the Virtual Prize Wheel and win a prize, be it small, medium, or large in value.  And almost everyone checked off the boxes asking to be on our newsletter and to get more info on our products.
Many people who played the Challenge Bar Trivia Game stayed for a long time, all the while learning about our products as they answered questions about them.  When they got to a question they did not know the answer to, then they would ask a SocialPoint booth staffer for guidance, and another relationship was started.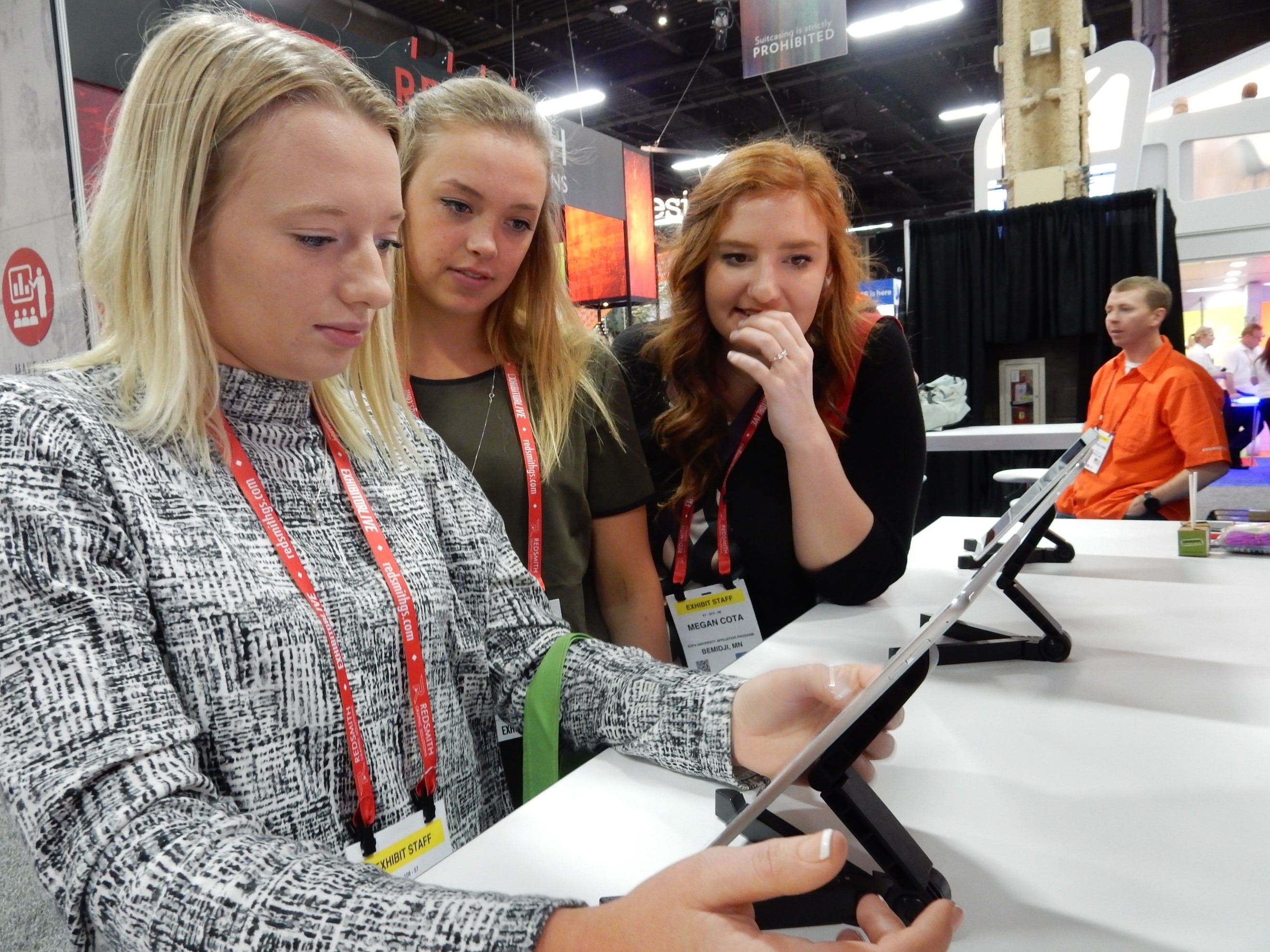 We had a 60-inch flat screen monitor with the word "Leaderboard" in big letters and the list of current trivia game leaders as an attention-getter.  Show attendees stopped because they were curious who was on the Leaderboard, and how they themselves could get on it.
We saw people play Challenge Bar Trivia because they were motivated 4 ways to get on the Leaderboard:
They wanted to be #1, because they wanted recognition as the best player
They wanted to be #1, because they wanted to win the prize (a free Bose Mini Speaker)
They wanted to get higher ranked on the Leaderboard than their friend or friends who were already on it
They just wanted to get a high enough score to show up on the leaderboard, not so much to win, but to demonstrate to themselves and others they were above average
Learn How Leaderboards Drive Repeat Booth Traffic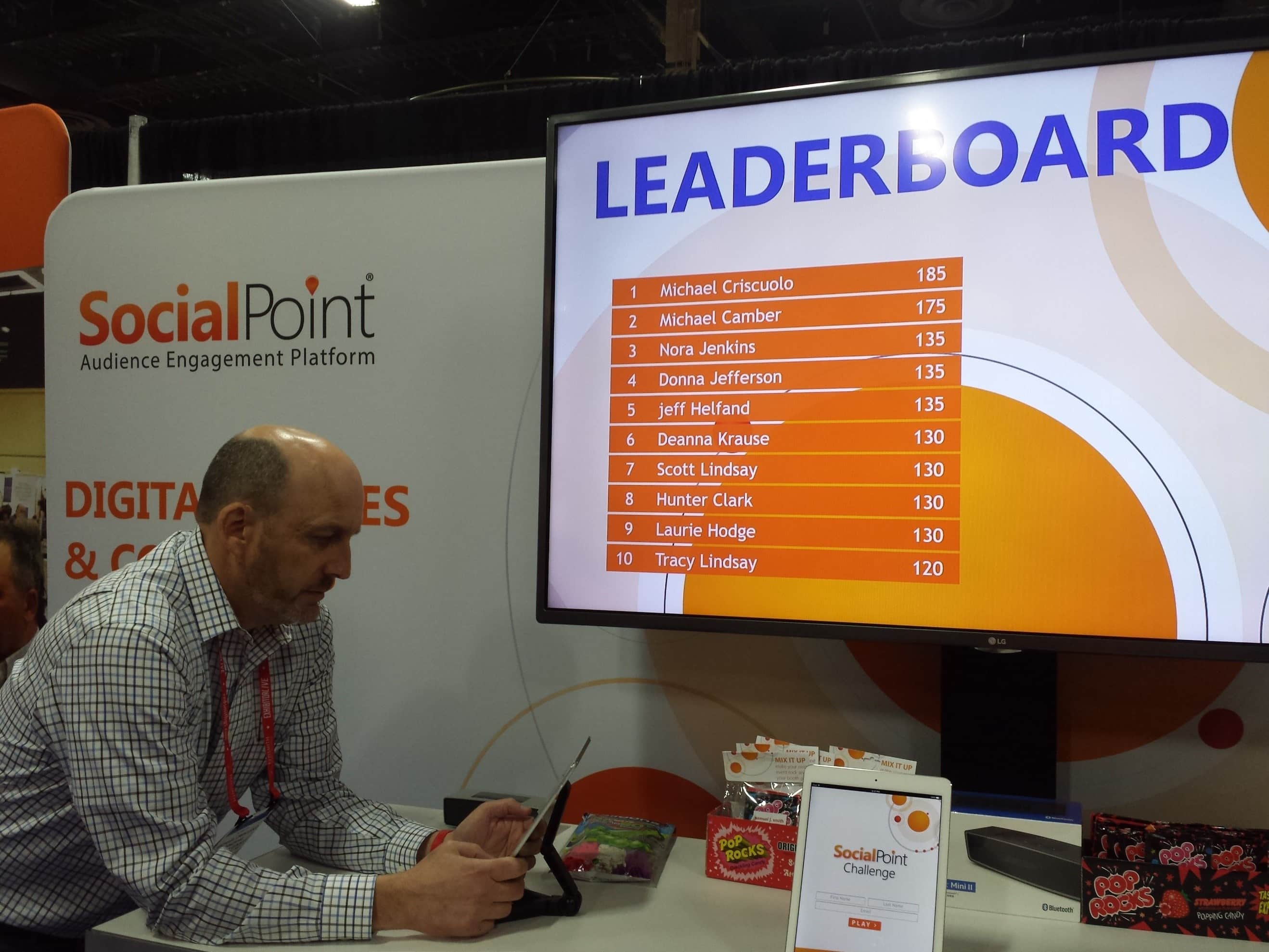 "I've got to beat Hunter!"
We witnessed several attendees taking pictures of their name on the leaderboard, and attendees come back for multiple visits to see if they still were on the Leaderboard.  Our eventual Challenge Bar Trivia winner actually came back three times.
Our Success Attracted Attention
Our neighboring exhibitors said to us, "Wow, your booth was always full!"  And on the final day of the show, a fellow exhibitor came into our booth and said, "At this show, I had just a static backwall and not enough traffic.  Your booth was always busy.  I want to get your Virtual Prize Wheel for the show I have in 9 days."  We worked out the deal right then.
We also experienced high interest from companies that wanted to join our Partner Program, as they experienced themselves how our interactive games and contests can help their clients to get more booth traffic and leads at their trade shows.
Overall, we exceeded our goal for leads by almost 50%, and our goal for qualified leads by over 200%!  It was great to experience for ourselves just how well our own games do exactly what they are intended to do!
If you'd like to see more about how you can drive more booth traffic with our interactive trade show games, feel free to contact us with questions or to discuss your event with one of SocialPoint's Digital Strategists. We'll help you generate excitement, crowds, and leads.