Harvard Research Correlates Events With Higher Revenue Growth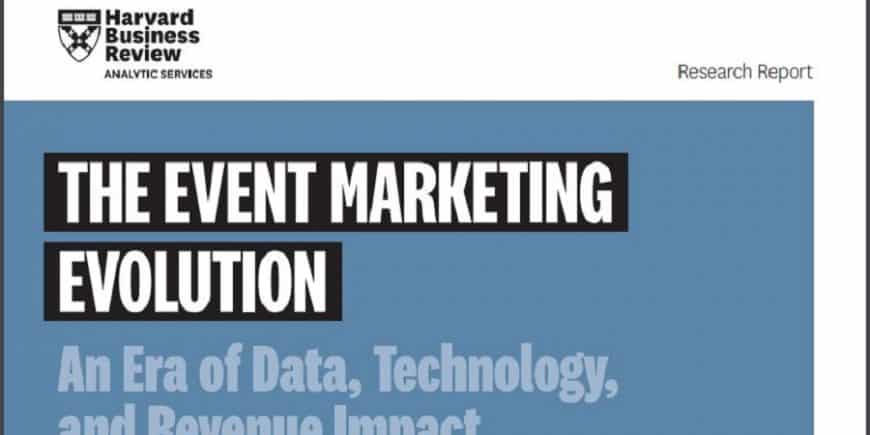 A new research report from Harvard Business Review's Analytic Services makes a bold claim: Greater use of events correlates with greater revenue growth.  That's because already popular events are getting even more popular, as new technologies are making it easier to track event leads to sales.
With a provable ROI, events have regained traction as a preferred marketing medium.
Even high-tech companies that are central to the digital revolution, such as Salesforce, Yelp, Facebook & Instagram, heavily depend on events to drive sales growth, hosting hundreds of events all year round, and all around the world.
Highlights from the Harvard report include:
52% of survey respondents say event marketing drives more business value than other marketing channels, while only 8% say it drives less.
Fastest-growing companies are investing the most in events: respondents who have seen revenue growth of 30% or more over the past two years have been increasing their activity the most.
Revenue growth correlates with event activity: respondents from companies with 30% or higher revenue growth were 61% more likely than the average respondent to agree that event activity increased significantly in the past three years. This was higher above average than any other reported subgroup of survey respondents.
B2B marketers spend 29%, and B2C companies spend 19% of their marketing budgets on events.
Going forward, 40% plan to expand the events they host, and 30% plan to expand the events they sponsor. Harvard reports that larger companies are shifting more into hosting their own events rather than sponsoring, to have greater control over the customer experience and for greater ROI.
The top 5 event types B2B companies say they spend the most money are:

1st: Multiple day conferences (24% hosted, 28% sponsored)
2nd: Industry trade shows/conventions (23% hosted, 44% sponsored)
3rd: One-day conferences or seminars (22% hosted, 17% sponsored)
4th: Business or channel partner events (19% hosted, 17% sponsored)
5th: Thought-leadership workshops (14% hosted, 9% sponsored)
The 739 survey respondents were not from fly-by-night companies.  All were from companies with 500 or more employees, with 47% from companies with 10,000 employees or more, and 50% from companies with $1 billion or more in annual revenue.  On average, survey respondents say their organizations host 73 events annually and sponsor another 62.
There are two major takeaways for you as an event marketer from this report:
Technology exists today that didn't exist recently that can make it easier for you to track and report your event marketing ROI and justify (and even expand) your company's investment in events.
Even if you are not tracking your company's ROI yet, the widely-shared success your peers are having now proving and growing their event marketing budgets can help you defend yours.
You can go here to request and download the full Harvard Business Review report.
Now that you have more proof of the power of events, make yours event better.  If you'd like to see more about how you can drive more booth traffic and get more qualified leads with our interactive trade show games, or see how you can create more engaging and interactive content using the wide variety of choices within our SocialPoint Audience Engagement System, feel free to contact us with questions or to discuss your event with one of SocialPoint's Digital Strategists. We'll help you generate greater attendee engagement and results at your events and trade shows.