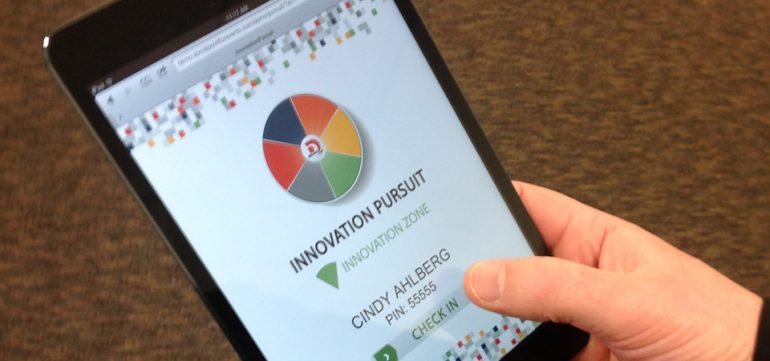 Project Description
Are you still asking attendees to collect stamps or signatures on paper passport cards at your trade show?
We created a simple digital expo passport allowing attendees to check in as they visit booths. In addition, attendees can collect digital collateral and earn points toward your prizes. This solution can double as a lead capture solution for your exhibitors for small shows, saving you the headache of working with two vendors.
How does it work? 
Attendees go through your trade show and meet exhibitors. The exhibitors will scan a QR code at each booth. The exhibitor gets the lead information, while the attendee receives points for visiting the booth. In addition, the attendee can request digital brochures. At the end of the event, the attendee gets an email with a digital business card of each person they met and their digital documents. The exhibitors get a list of leads from the show with notes they wrote about the lead. You get a report on the total Engagement at your show.
Key benefits:
A simple solution for trade show gamification

Go paperless by getting attendees to collect digital collateral

Leverage the existing devices your exhibitors and staff already use

Create opportunities for exhibitors to capture leads and follow up digitally

Award attendees for visiting as many stations or booths as they can
***Updates to the Digital Trade Show Passport***
We replaced this solution with our Attendee Participation Game platform. The new Attendee Participation Game provides the following advantages:
Improved Engagement in a booth – Scanning a QR code may include:
Taking a quiz

Posting a picture

Captioning a photo

Polling

Completing a survey

Participating in a word cloud – or a simple check-in
These activities make participation more fun, allow exhibitors to collect more data, and make the interaction more relevant to their exhibiting (or sponsorship) goals.
Rewarding Drawing Entries. Socialpoint manages drawing entries, making it easier to know who has qualified for your prize drawing. Notifications pop up each time players receive a prize drawing entry. These lists of qualified players are downloadable to Excel. 
Raffle Wheel Drawings. Put on a show and conduct a live raffle drawing to pick winners using our virtual prize wheel. When you are ready to pick your prize winners, you can push the names to a virtual prize wheel and spin for a winner. The prize wheel slices will show the players' names (who have earned a raffle entry) on the wheel. 
Learn more about our new Digital Trade Show Passport Solution  or the more advanced Attendee Participation Game platform.