Announcing the SocialPoint Lead Manager App – A Free Add-On to SocialPoint Interactive Games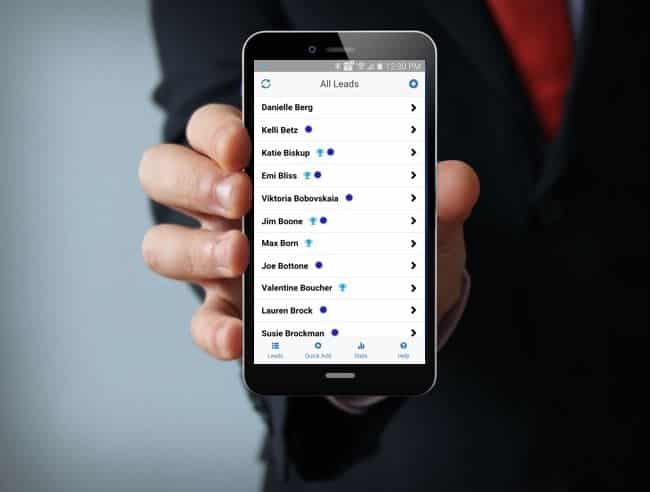 SocialPoint is proud to announce our newest product, the Lead Manager companion app for trade show lead capture.
This gives booth staffers the ability to record even more info about their booth visitors.  And it's a free addition for SocialPoint clients, when they use our popular digital games like Challenge Bar Trivia and Virtual Prize Wheel.
We used the app ourselves in our booth at ExhibitorLive 2017, and it helped us gather detailed info about the many visitors we talked to.
9 Features That Help Booth Staffers Easily Gather More Valuable Lead Data
The Lead Manager App has many features that will improve your lead gathering at trade shows:
1. Simulated App Shortcut on Smartphone Home Screen: For ease of use, your booth staffers can have a shortcut to the Lead Manager app right on their smart phone home screen, set up with just a couple of steps, and without having to go to the app store.
2. Searchable List of Leads: Your booth staffers can quickly search through the list of visitors to your booth that have already played your booth games, and then select the specific lead they want to add to.  Icons let you know if the attendee has played the Trivia Game or spun the Virtual Prize wheel, or both.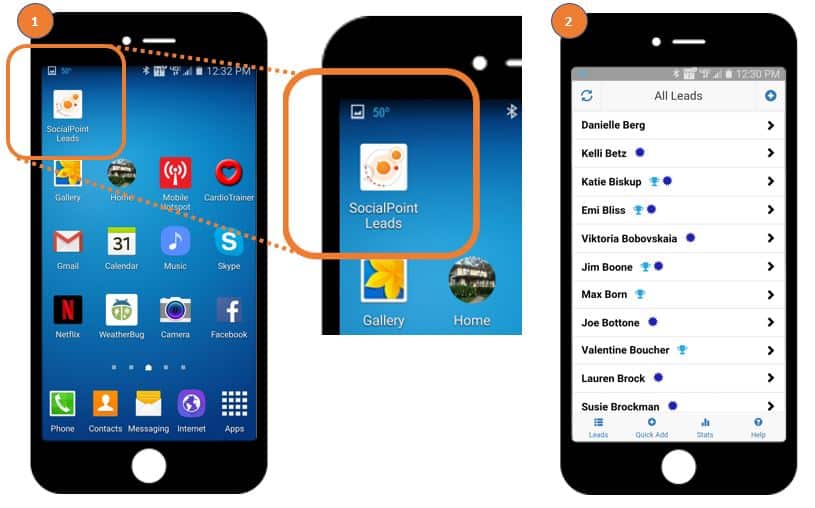 3. Full Contact Info: Your booth staffers can add more detailed info about a lead, including phone number, email, address, or whatever else you want your booth staffers to gather, but didn't want to require game players to enter themselves. That way you get high participation on games, and also get more data on visitors you talked to at-length.
4. Quick Add: When your booth staffers are rushed with a flood of attendees, they can quickly start a lead with the Quick Add function, that gets them going with only the visitor's name and email address.
5. Lead Rating: Your booth staffers can rate your leads from 1 to 5 stars, to quickly give your sales people a sense of lead quality, and to prioritize your trade show lead follow up.
6. Business Card Photos: You can take pictures of your visitor's business card (or anything else) and include it in their lead info.  This is a time saver, so that you can later go back and enter in their contact info, when you may not have time to during the rushed exhibiting hours.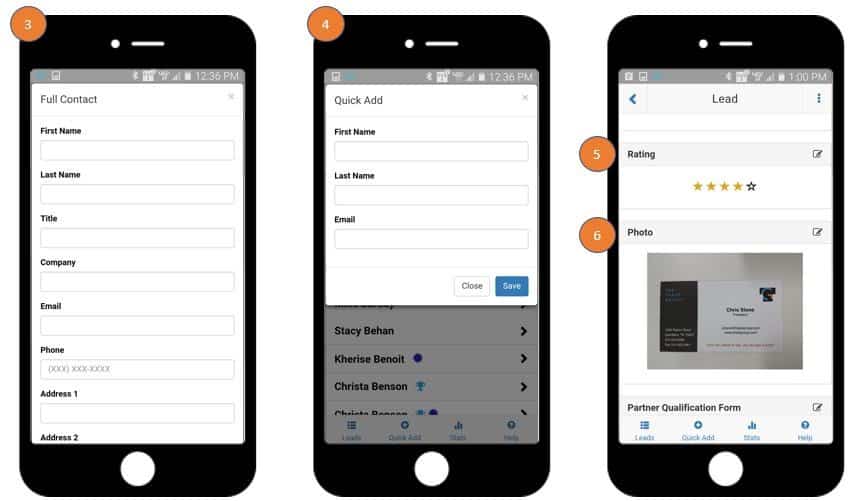 7. Customizable Lead Forms: You can choose whatever questions you want your booth staffers to ask and enter, and even have different lead forms for distinct types of booth visitors.
8. Lead Count Reporting: You and your booth staffers can see how many total leads and game plays you have had during the show, to keep track of your success and see what's hot.
9. Built-in Help: There is a built-in Help function to guide booth staffers how to use the Lead Manager, and it's only a click away.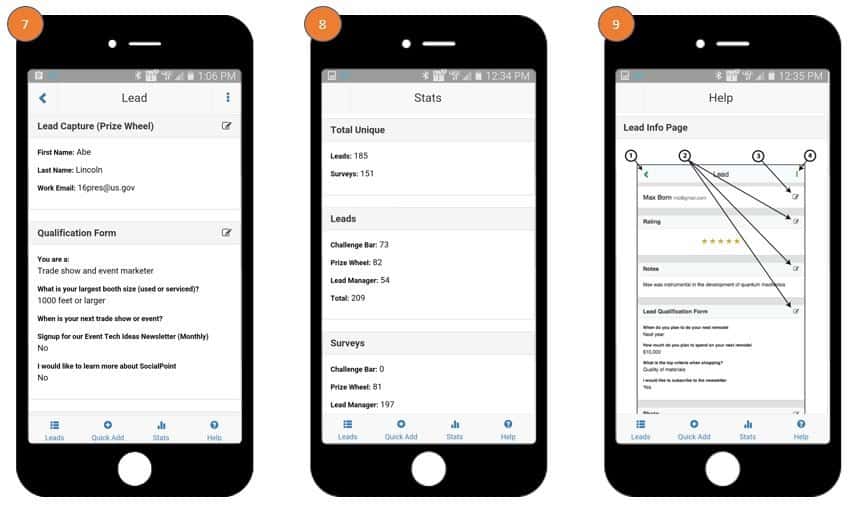 Staffers can also use Lead Manager to talk to booth visitors who have not yet played a SocialPoint game, or even take leads from people outside your booth at the show!  All leads will be synched up, no matter if they were started by a game or by the Lead Manager.  And, your booth staffers can edit any lead, in any field, whenever they want.
Best of all, the Lead Manager app ties into the SocialPoint Audience Engagement Platform, so you can leverage its already robust reporting and data export functions to follow up and measure your trade show leads.
To see more a demo of the new SocialPoint Lead Manager companion app, and how it ties into our popular interactive games and contests, that drive more booth traffic and capture more lead, feel free to contact us with questions or to discuss your event with one of SocialPoint's Digital Strategists. We'll help you create a more fun booth that increases your attendee engagement and boosts your trade show results.